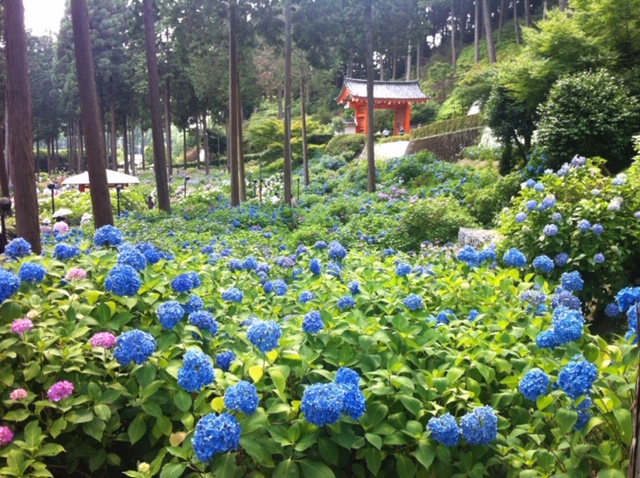 One thing you could definitely do in Kyoto – in June – is to visit sightseeing spots to see hydrangea. Mimuroto-ji temple, in Uji-city, is partcularly known for a place to see hydrangea. The sight of fifty species of hydrangea in the temple is spectacular. Mimuroto-ji temple is also called by the name "Ajisai-dera (literal translation: hydrangea temple) ". Other than hydrangea, you could also see rhododendron, azalea, lotus, and fallen leaves during other times of a year. Since we could enjoy the sights of seasonal flowers and trees at the temple, we also call it "the temple of flowers".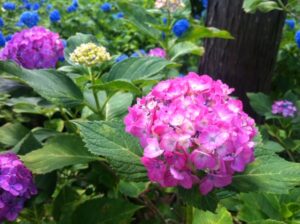 The history of Mimuroto-ji temple dates back to 1200 years ago. It is told that the temple was built back in 770AD.  You could find a stone statue referred in the bestseller romance from the Heian period (roughly about 1000 years ago), "The Tales of Genji". The main building of Mimuroto-ji temple was built in 1805 and is the tenth temple of the Saigoku Kannon Pilgrimage.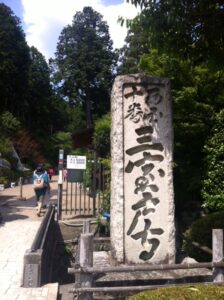 Once you enter the gate, you will find yourself surrounded by colorful flowers. As you proceed towards the main building, you are greeted by the statues of rabbits, snakes, and a bull. They are thought to bring people good luck or monetary fortune.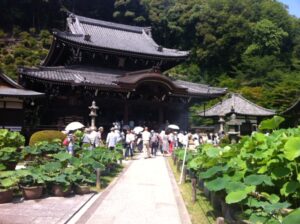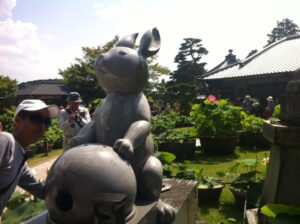 Various full-bloom hydrangea together make up a magnificent sight! The scale of the garden is quite impressive too.  The "heart-shaped hydrangea" seems to be attracting travelers in the recent years. It is said that the blue ones make your wish come true and the pink ones bring you romantic luck . The heart-shaped hydrangea blooms every year. We're wondering where we could find them this year!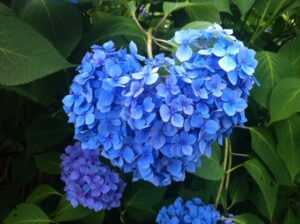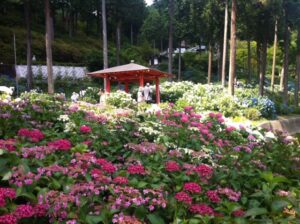 You could also visit the Phoenix Hall of Byodo-in, also located in Uji. The Phoenix Hall is very famous, as it portrayed on the 10-yen coin. Please visit and explore what Uji, Kyoto has to offer in June!
【Mimuroto-ji Temple's Hydrangea Garden】
Duration:Saturday, June 1st, 2019~Sunday, July 7th, 2019
Opening hours:8:30~16:30
Fee:800 yen per adult, 400 yen per children
Access route:15 minute walk from Keihan Railway Mimuroto station.
※Notice※
・No eating, no drinking
・No smoking
・No photos (using the tripod)
・No pets
・No painting (using paints and easels, etc. )