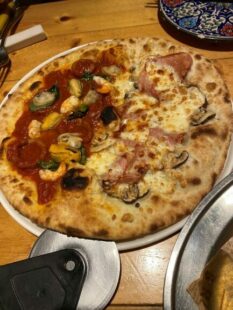 Sushi, Tempura, Ramen, i think that you have already experience. How about pizza in kyoto?
There is a restaurant where 5 minutes by walk from Kyoto Station, there is a pizza parlor called【Ishigama Bal CENTRO】.
When you step foot into the restaurant, you are first welcomed by the smell of tomato sauce, freshly baked dough and basil.
Then you notice the dim lights and colorful walls. It's a vibrant atmosphere, a good balance of casual and fancy. A perfect place for a dating and dinner with friends.
But what is even more incredible about this place is their food.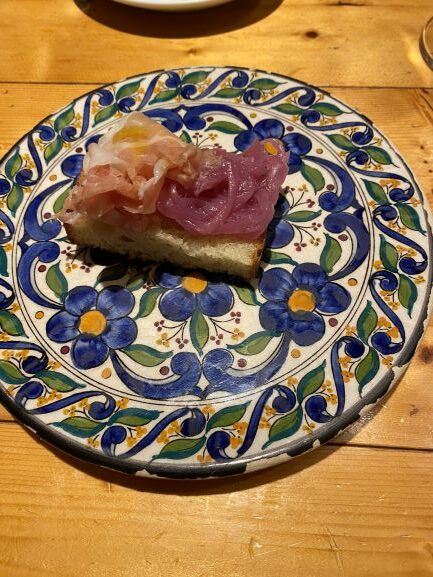 Once you sit down, you're given with a water and a dish with entrée, It is a small appetizer with entrée. For this time, It was curated ham, pickled onion on a piece of bread with a dash of olive oil.
What a delight!
Then came for main dish,
From their appetizers including calamari to main dishes of steak, their menu is abundant. However, what we talking about this place is their pizza. You can taste their careful attention to detail from the burnt taste in the pizza that you can only get from using a stone kiln.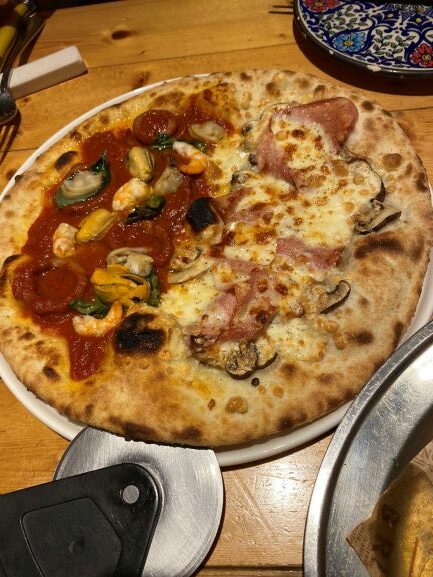 Left: Tomato sauce with seafood and garlic
Right: mozzarella cheese, mushrooms, whipped cream
I'd also recommend sipping some wine along with your food.
They also have a desert menu for us sweet tooth.
Stereotypical Japanese food is definitely a must try when you visit Japan, but Italian food here is also buonissimo!
---
【石窯バル CENTRO】
Address:〒600-8217 Kyoto, Shimogyo Ward, Higashisakaicho, 174 1F
---
~Kyoto's hotel is about M's inn!~
M's inn is the best choice to stay in Kyoto
Our hotels are located near station and we have many hotel in Kyoto.Also there are many guest limited services.
Why don't you stay M's inn ♪