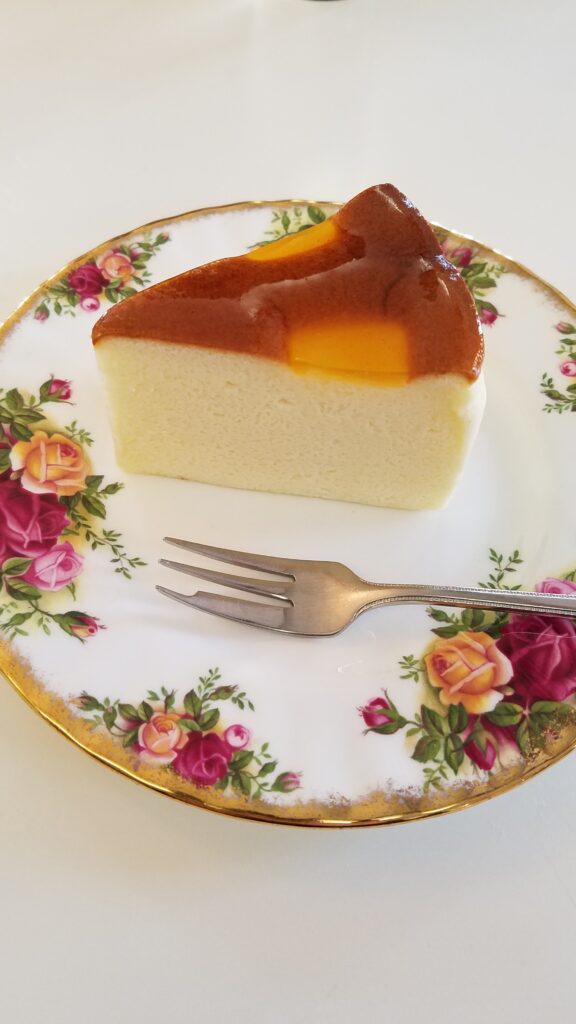 Today I introduce you to Switdzland Rhone.
http://www.swiss-rhone.com/home.html
Not to mention takeaway cake, there is a cafe on the 2nd floor, so you can enjoy coffee with the cake.
You can spend it slowly while drinking.
Go up the spiral stair from the first floor to the second floor. The shop was fashionable with a traditional Western style.
The most popular menu is "Meister Cheesecake".
The sweetness is modest, less and the cheese-specific smell is not so strong.
It was completely different from many of the cheesecakes I had eaten in the past.
Cheese cake with a rich taste and moist and smell of cheese… it's good.
But Rhone's "Meister cheesecake" dough is light and fluffy like a souffle, and melts quickly in the mouth.
I thought this type was great too.
It was a valuable new discovery!!
And there was a small apple in the baked part!
It's really interesting.
"Meister cheesecake" was satisfying, but cream puffs were also great.
I bought one for takeout.  (not image)
Plenty of custard cream from a small thin dough shoe …
It was Wonderful!!
This was also a sweet and modest sweet food.
Next time I would like to eat Mont Blanc and strawberry tart if I have the opportunity to go again.
~Kyoto's hotel is about M's inn!~
M's inn is the best choice to stay in Kyoto 
Our hotels  are  located near station and we have many hotel in Kyoto.Also there are many guest limited services.
Why don't you stay M's inn ♪