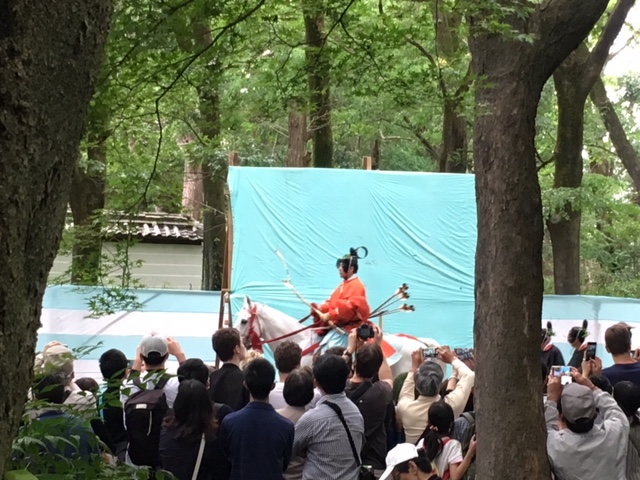 Aoi Matsuri is known as one of the three main festivals of Kyoto. The other two are the Gion Festival (Gion Matsuri) and the Festival of the Ages (Jidai Matsuri).The procession of over 500 people, dressed up in traditional Heian period outfits, leaves the Imperial Palace and heads for the Shimogamo Shrine and the Kamigamo Shrine.
The sight of the procession is just like a picture scroll of the Heian period. Aoi Matsuri is the oldest known festival in Kyoto. The hollyhock leaves are decorated throughout the celebration.
Aoi Matsuri will be held on May 15th, 2019.
There are some ceremonies held, preceding the Aoi Matsuri.  One of them is called "Yabusameshinji" which I had the opportunity to go last year.Now wondering what is it about?  Let me explain you. This event is about horseback archery, shooting an enemy from the top of a galloping horse.  This is some Japan's traditional art of horse riding techniques, practice and ceremonies. This is performed at the Shimo gamo shrine,  praying for safety on the way of the the next festival to held which is Aoi Matsuri. This horseback archery ceremony is a very spectacular and popular event that you can not miss!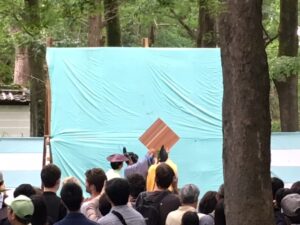 Here a video of it:  yabusame/aoimatsuri/festival
It is said that if the arrow hits right, the five grains will fall and the wishes will be fulfilled. The horseback archery is decreasing. And the horseback archery in Aoi festival is special for it's court noble costumes, which can not be seen in anywhere else.
This event will be held on 2019/05/03, from 13:00 to 15:30 Better to go early and you can get good seats ! Please do not miss this wonderful opportunity!