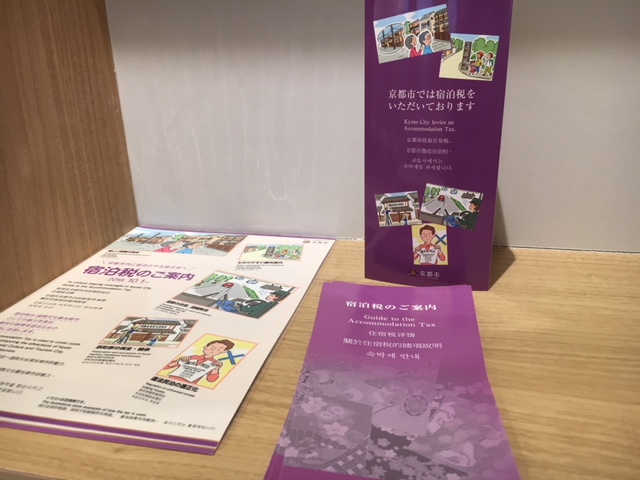 Hello! Today I'd like to explain about "Accommodation tax".
"Accommodation tax" is not familiar to Japanese people but it was introduced Kyoto from October 2018 last year. The purpose of the accommodation tax is to increase the attraction of the city as an international cultural tourism city, and to use it for the expenses required for the promotion of tourism. I used to work at a travel agency, so I felt like,"It finally came to Kyoto."
If you like traveling abroad, there are many people who know about "Accommodation tax" but actually the country that require "Accommodation tax" is quite a lot. It already introduced in The United States, Europe and some other Southeast Asian countries. Actually, it has started introducing in Tokyo and Osaka.
The United States has already begun in the 1970s. It is known for Resort Fee not Accommodation tax. It has been introduced in tourist cities such as Hawaii and Las Vegas. They introduce like "By paying the Resort fee, you can use hotel amenity service and WI-FI!". It is depending on hotels but there is a hotel which takes one room for 3000yen /per night.
When I was working at a travel agency, I heard a lot of customer's voices like "The one I was introduced at travel agency was included the resort fee but the one I found did not include the resort fee. I thought it cheaper but actually it was not! I was disappoint! Lack of confirmation…"
Including famous Europe cities, already 30 cities are introduced accommodation tax. Dubai in the Middle East called accommodation tax as "tourism dirham" and in 2017, it was introduced in Malaysia as well.
At this moment, the accommodation tax in Kyoto city is
1 person per night: accommodation fee + service fee < 20,000 yen  → 200 yen per person
1 person per night: accommodation fee + service fee >20,000 yen but <50,000 yen → 500 yen per person
1 person per night: accommodation fee+ service fee > 50,000 yen → 1,000 yen per person
Based on my previous working experience in traveling agency, the accommodation fee policy in Kyoto is not only easy to understand, but also cheaper than others. As long as accommodation fee is lower than 20,000 yen, the accommodation tax will always be 200 yen.I think it is good for traveler's wallet.
But please note that the accommodation tax is not included in accommodation fee. You need to pay it at hotel's reception by cash. What included in accommodation fee in advance is consumption tax.