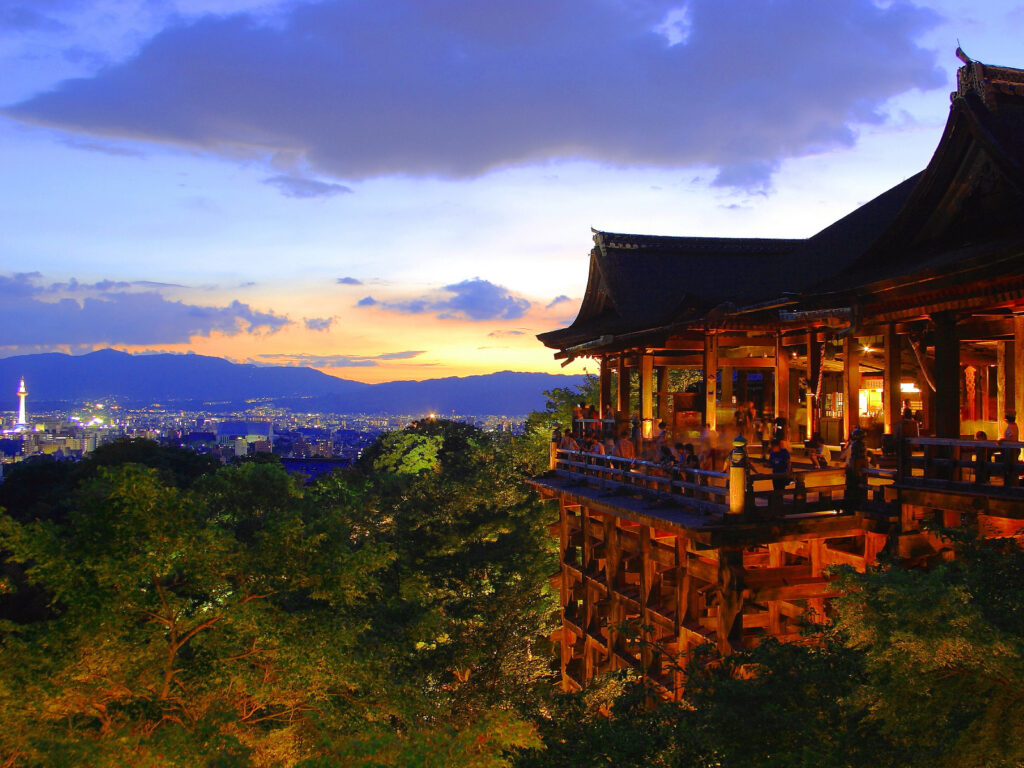 Last time we introduced you a plan for the first day. → 2020 is Tokyo Olympics!Recommended short trip to Kyoto!
Today, we are going to introduce you a plan for the second day ♪
---
The 2nd day
When you check-out, go to Nishiki Market to have some breakfast there.
* The average hotel check-out time in Japan is until 10:00 or 11:00 am.
* Please, check whether you can keep your luggage at the front office or not before check out. If you cannot leave your bags at the hotel or do not want to come back to the hotel one more time we are recommending you to leave your bags at the coin lockers or luggage storage at Kyoto Station.
♪ If you are stay at one of our hotels, you can keep your luggage at Our Information Office (it is located in front of Kyoto station, business hours 09: 00-21: 00). Also you can pay for luggage delivery service to send your bags from office to hotel or from hotel to office (only available for round way)
[Around 10:00] Breakfast at Nishiki Market!

Nishiki Market`s food is a typical food for Kyoto. There are about 130 restaurants and souvenir shops are lengthed in 400 meters. It is such a fun to walk and eat at the same time. Please, enjoy various gourmets in Kyoto. One more good things about this street is it has a roof so you can enjoy tasty food even in rainy days!
It is written that it opens early in the morning from 08:00, but most shops are open from 10:00 till 18:00. Thus we are recommending you to visit it during the day.
In fact, there is another way to enjoy Nishiki Market even after 18:00.
Famous Japanese painter "Ito Jakuchu" was a son of a vegetable wholesaler at Nishiki Market. He was involved in various activities to develop Nishiki Market. Therefore, in 2016, the "Nishiki Market Night Museum" was opened on the 300th anniversary of Ito Jakuchu's birth. Also there are a lot of pictures of Ito Jakuchu that are drawn on the shutters of many shops! We are recommending you to visit it once in night too ♪
[Around 11:00] Walk from Nishiki Market, cross Shijo Ohashi(bridge) where you can enjoy a view on Kamogawa River. Than go to the center of Gion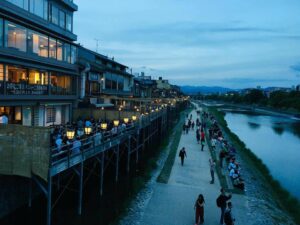 In 10 minutes walking distance from Nishiki Market (west end) there is Shijo Ohashi. You can also enjoy a view on Kamogawa River here too.
【11:15-16:00】 Heading to center of Gion!
If you start from Shijo-Ohashi bridge, then I recommend to go to Gion Shirakawa area →Yasaka Shrine→Hanamikoji street→ Yasaka pagoda →Ninen-zaka slope→Sannen-zaka slope→Kiyomizudera temple.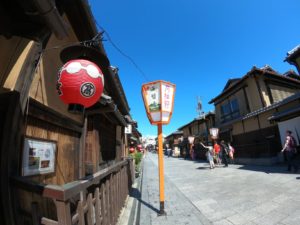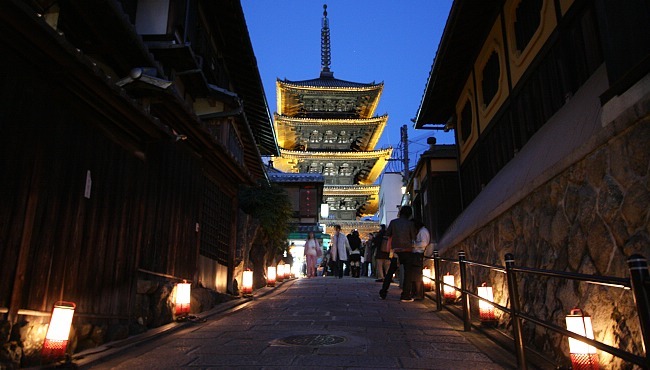 Yasaka shrine and Kiyomizu temple is the symbol of Kyoto.If you sightseeing Kyoto you gotta visit these places.
Gion Shrikawa area and Hanamikoji street is photogenic place.
Ninen-zaka slope and Sannen-zaka slope are good for shopping and having lunch.
If you go by walk all place on above it takes about 50 minutes.
It takes 10 or 20 minutes sightseeing and exploring for each places (you should consider Kiyomizu temple takes an hour to see)
Also you will probably have a lunch and buy some souvenir so Gion Sightseeing takes roughly 5 hours in total.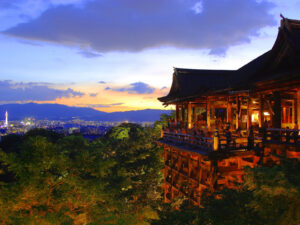 [Around 16:30] Take the Keihan Railway from Kiyomizu Gojo Station to Fushimi Inari!
After leaving Kiyomizudera at around 16:00, walk (about 20 minutes) or get off at the main street and take a bus or a taxi. In about 6 minutes, the nearest station of Fushimi Inari arrives at "Fushimi Inari Station".
[Around 16:50] Arrival at Fushimi Inari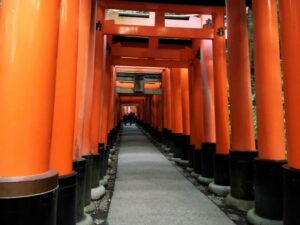 Fushimi Inari shrine is famous for its vermilion torii gate which called as "Senbon Torii".
In fact, it is a tourist spot where you can go as a final destination because most temples are closing at 16:00 to 17:00 so if you want to go to various places in Kyoto, you can get in here for 24 hours.
(Please note that it will be dark late at night) However, if you want to buy a good luck charm, it will close at 18:00, so be careful!
●Required time for Fushimi Inari
Round trip from Omotesando to Honden, Senbon Torii and Okusha worship place (the place where has a stone; Omokaru-ishi) … about 45 minutes
Round trip from Omotesando to Yotsutsuji (you can see the view of Kyoto city. The sunset is beautiful!) … about 90 minutes
If you are going to the top … about 2-3 hours
If you go to Fushimi Inari, let's decide how do you want to go there beforehand! Go to the top with a little hiking feeling.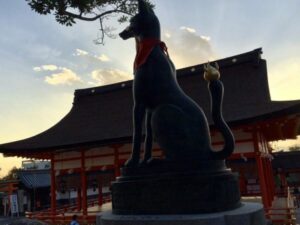 [Around 18:00] From JR Inari Station go back to Kyoto Station and than go to Tokyo
It takes about 5 minutes from JR Inari Station to Kyoto Station (Inari station station is in front of Fushimi Inari entrance) Pick up your luggage, take Shinkansen, and come back to Tokyo. If you leave Kyoto after 18:00, you can return to Tokyo before 21:00.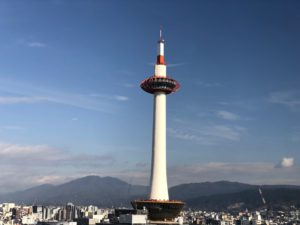 What do you think about our 2 days 1 night trip around famous spots in Kyoto?
Next time, we would like to introduce you where to go in Japan in a particular season.
Please, visit Kyoto during Tokyo Olympic Games. We are looking forward for meeting you here soon ♪
---
~Kyoto's hotel is about M's inn!~
M's inn is the best choice to stay in Kyoto
Our hotels are located near station and we have many hotel in Kyoto.Also there are many guest limited services.
Why don't you stay M's inn ♪