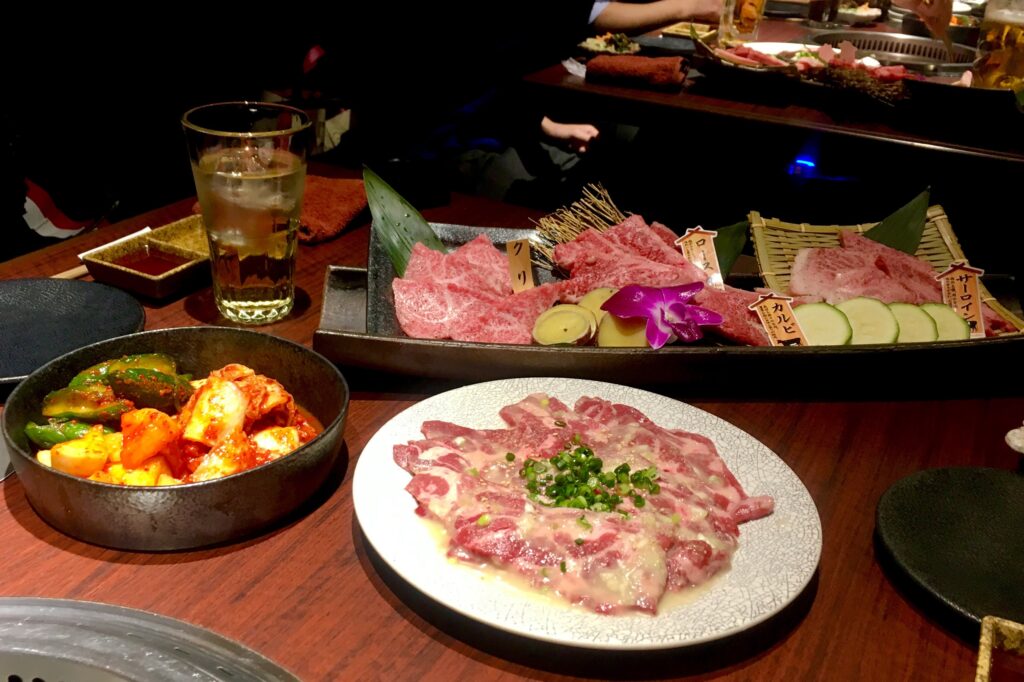 Hi!
Recently, I went to a Yakiniku (Japanese BBQ) restaurant.
I ate a lot beef and I don't have so much knowledge about the beef but especially, I really liked Sirloin steaks among them.
Also I really enjoyed the time with my friends.
So today, I'm going to introduce about the delicious Yakiniku restaurant in Kyoto.
I went "Yakiniku Ichibakoji Shijo Karasuma (焼き肉 市場小路 四条烏丸店)".
What I ate was one of the most standard course dinner which includes all you can drink for 5000 yen.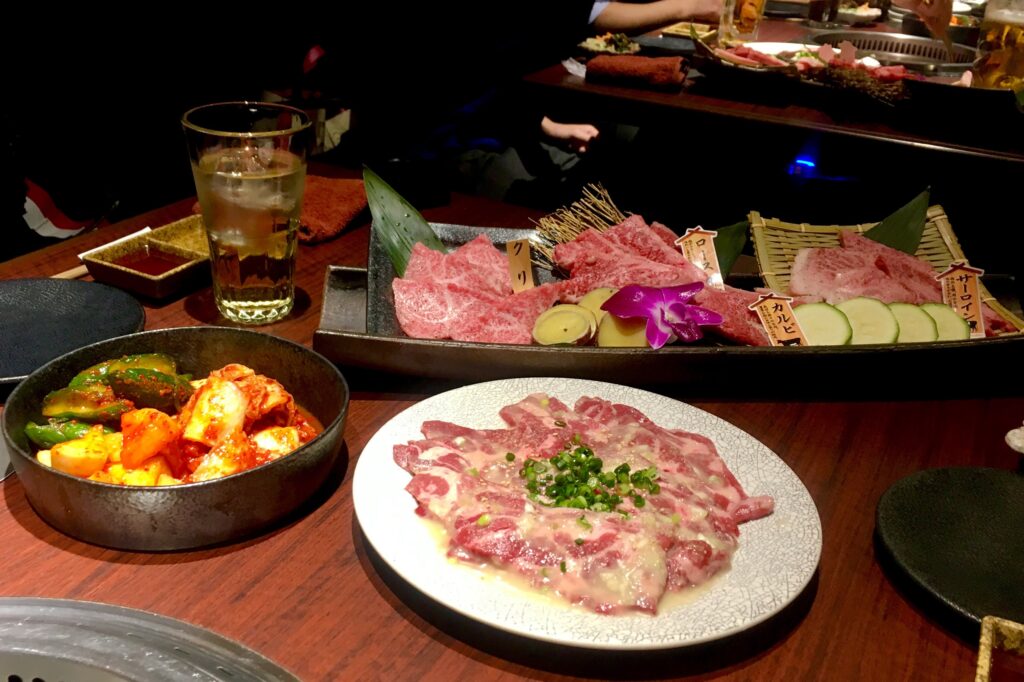 ・・・・・・・・・・・・・・・・・・・・・・・・・・・・・・・・・・・・・・・・・・・・・・・・・・・
-MENU-
1. Assorted Kimchi (Korean pickles)
2. Assorted Namul (Korean radish)
3. Grilled leek and beef tongue with soy
4. First plate of assorted 4 kinds of beef (picture)
5. Salad
6. Buchimgae (Korean pancake)
7. Second plate of assorted 2 kinds of beef
8. Second plate of assorted 2 kinds of hormone
9. Wrapped vegetables
10. Today's soup
11. Specialty earthenware pot rice
12. Stewed beef
13. Desert
・・・・・・・・・・・・・・・・・・・・・・・・・・・・・・・・・・・・・・・・・・・・・・・・・・
I didn't take every pictures of the cuisine but isn't it seems delicious only with the name of cuisine?
Especially, I really liked Sirloin steaks from the menu No.4, it was so tasty!
Very delicious, we ate so much and talked a lot, what a quick 2 hours!
If you have a chance to go to Shijo Karasuma, I recommend you to eat and enjoy Yakiniku in this restaurant!
【 Yakiniku Ichibakoji Shijokarasuma 】 👈Click here to go to the website!
☑Address
〒600-8008
Ajihiroba B1F, Kyoto Mitsui building, Naginatahoko-cho, Karasuma higashi-hairu, Shijo-dori, Shimogyo-ku, Kyoto
☑Access
1 minuet by walk from subway Karasuma line Shijo station
1 minuet by walk from Hankyu Kyoto line Karasuma station
☑TEL
050-1705-1847
☑Opening hours
Lunch 11:30 AM – 3:00 PM(Last Order. 2:00 PM)
Dinner 5:00 PM – 11:00 PM(Last Order. 10:00 PM)
☑Closing days
None *Except New Years and building maintenance days
☑Seat and table
A private room for 4 people
A private room for 6 people
A private room for 10 people
A tatami private room for 30 people
---
~Kyoto's hotel is about M's inn!~
M's inn is the best choice to stay in Kyoto
Our hotels are located near station and we have many hotel in Kyoto.Also there are many guest limited services.
Why don't you stay M's inn ♪