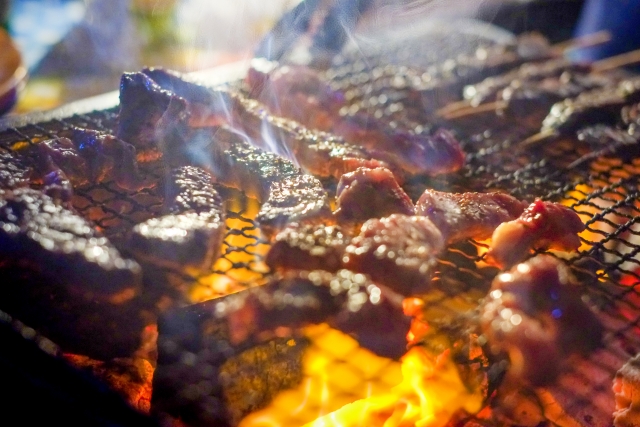 Today I am going to introduce you the best Yakitori/Izakaya/Japanese Style Bar in Kyoto, OICHO.
It is located in the middle of Shijo and Gojo Kawaramachi-area, close to the Teramachi shopping streets in Kyoto.
This place is so good that every time I go out with Japanese or non-Japanese friend I come here because I want them to know about this place!
Their menu is good and their Japanese Chuhais are THE BEST.

Usually in Yakitori-ya (grilled chicken bar) the chicken comes already cooked, but here YOU do it!
So you have a grill in front of you and you grill the chicken to your liking.
They have the option of 5 part of the chicken or 10 different parts.
Here was the first time I tried something different than breast and thigh chicken and I learn that the heart and the tail are the best part!
However, my favorite dish of this place is the fried skin. The skin is so crunchy with a japanese vinegar seasoning, is delicious!

Sometimes I just go to have that and a chu-hai, which I want to talk about now (and the best part).
So the chu-hai is a japanese cocktail and is made with barley shochu and juice. Here they make it with fresh fruit and is sweet, they are so good.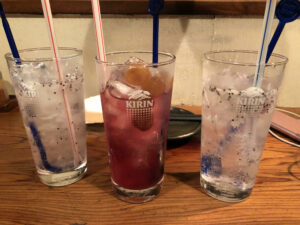 My favorite flavor is Dragon fruit and they also have a temporary flavor according to the season.
If you want some Japanese style bar but not loud and delicious, this is the best option!
---
【OICHO】
Address:〒600-8035 京都府京都市下京区下京区 寺町通リ高辻下ル京極町497-2
Google :Google Map
Opening Hour:18:00-24:00
---
~Kyoto's hotel is about M's inn!~
M's inn is the best choice to stay in Kyoto
Our hotels are located near station and we have many hotel in Kyoto.Also there are many guest limited services.
Why don't you stay M's inn ♪