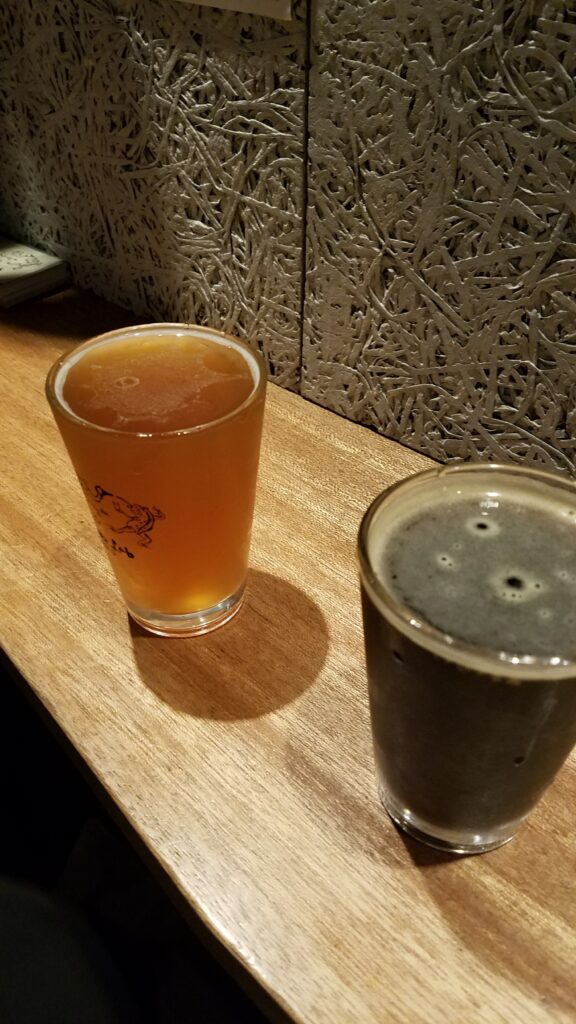 Today, I introduce a Beer Lab in Kyoto.
At this shop, you can enjoy and drink unique beer such as "cha"(Tea) beer.
I watched a foreign staff who is one of the owners of this store on TV.
He was interviewed by the broadcast of the documentary program and then I was impressed and thought that I would like to go to this shop.
Actually, I was happy to visit!
It was like a "Sencha" (roasted tea)beer … (-_-;) (._.) and "Hojicha" (roasted green tea)beer, ordered with my friend.
I tried drinking. I felt like a sweet taste and fragrance of the tea and after the fragrance of the tea came out of the nose softly.
Both were supreme Beer.
I felt like a balance of taste of beer 60 ~ 70% and tea 30 ~ 40%.
I liked tea beer personally.
And expanded my idea of craft beer I was able to do that.
Originally, you can drink habitual "black beer", but the "Hojicha" beer (right side) introduced earlier.
It tastes like a  "Kuro"beer, but it feels a little lighter. ( "Kuro" is black means)
So I wondered if anyone who doesn't like black beer can try it.
In addition, delicious food is also offered, so if I have a chance to visit again, I want to order.
If you are interested in this store, please check it out.
---
【Kyoto Beer Lab】
600-8137  201-3, Juzenshi-cho, Shimogyo-ku, Kyoto-shi, Kyoto
Open: Monday to Friday 15:00 – 23:00
Saturday・Sunday・Public Holidays
13:00 – 23:00
---
~Kyoto's hotel is about M's inn!~
M's inn is the best choice to stay in Kyoto
Our hotels are located near station and we have many hotel in Kyoto.Also there are many guest limited services.
Why don't you stay M's inn ♪
---