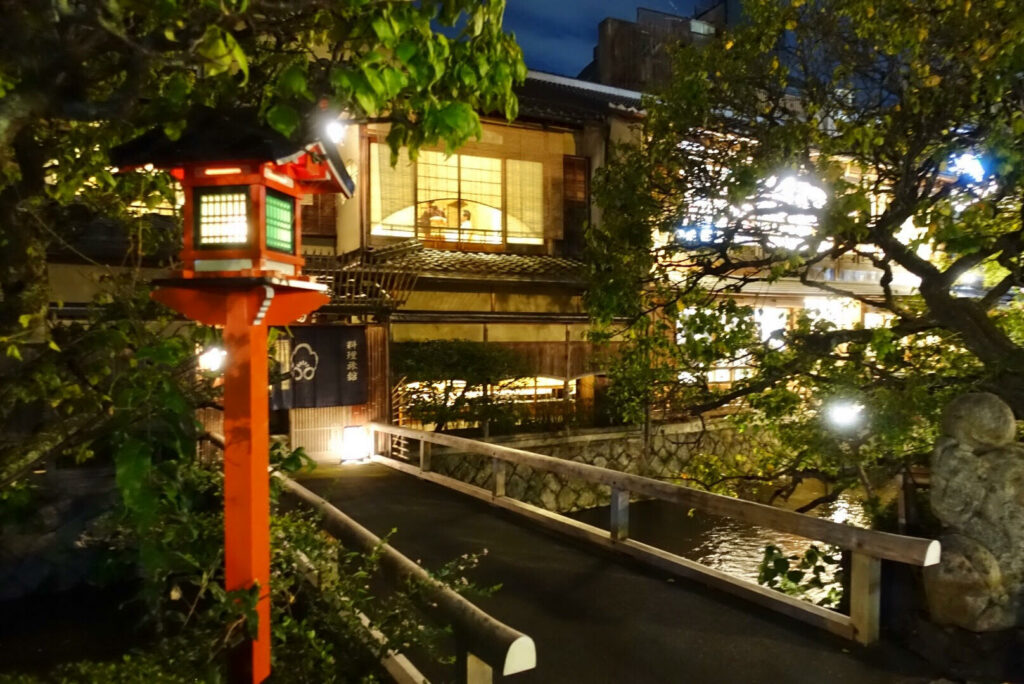 When you are going to stay in Kyoto, what would you like to do at night?
In the day time, you might be visit temples and shrines but you can also enjoy Kyoto in the late at night.
And
I think

that's one of the attraction of this city.
From now, I'm going to show you the sightseeing places where you can enjoy beautiful Kyoto at night.

---
Gion -祇園-
Gion is one of the famous sightseeing spots where always crowded with lots of tourist in the morning till the night.
And didn't you thought that there's no place to go late at night except convenience stores, right?
Actually, Yasaka shrine is such a rare shrine in Kyoto which you can enter regardless of time!
Not only walking around there (and worship),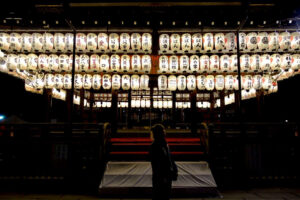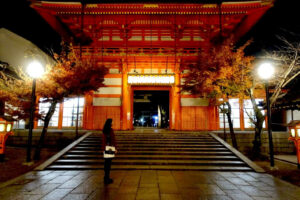 but also I enjoyed taking photos with my friend!
---
Shirakawa -白川-
You can also feel the beautiful Kyoto at night in Shirakawa-dori street where located in a little bit side of the main street of Gion.
You can enjoy meal in the restaurant, the night view or taking photos.
・・・・・・・・・・・・・・・ Recommended restaurant・・・・・・・・・・・・・・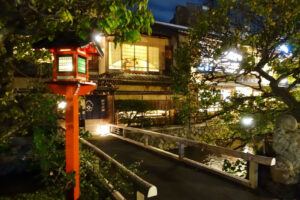 You can enjoy kaiseki ryori (traditional Japanese multi-course meal) that makes full use of the seasonal ingredients unique to Kyoto.
 You can relax while enjoying it slowly in a private room or on the counter seat.
 Opening hours: 5:30 pm~10:00 pm/Last in 7:30 pm
 Estimated budget:¥8,000~15,000
・・・・・・・・・・・・・・・・・・・・・・・・・・・・・・・・・・・・・・・・・・・・・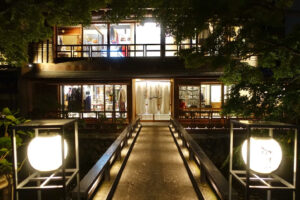 Cafe/Bar or shaved ice and so on, I recommend here to the person who's looking for something sweet.
Opening hours:[Monday to Saturday] 11:00 am – 8:00 pm/Last order 7:00 pm
[Saturday and National holidays] 11:00 am – 7:00 pm/Last order 6:30 pm
Estimated budget:¥800 – 20,000
---
Kamo river -鴨川-
For those of you who are feeling tired of sightseeing and want to take a rest in a quiet space with nobody, I recommend you to chilling in the riverside.
I like sitting down there and chatting with my friends or listen to the river sound because it made me calm and peaceful.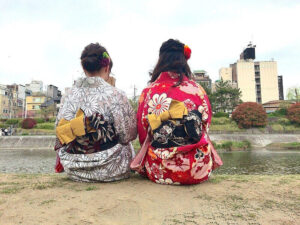 Chatting with my friends like this.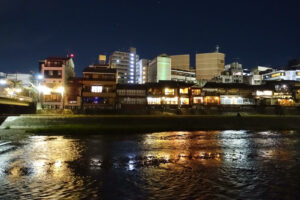 I love the beautiful night view which reflects on the river!
How was it?
Kyoto has a lot of attractive things to do which doesn't written in a guidebook.
I hope you' ll enjoy the delicious food, beautiful view and the night in Kyoto!