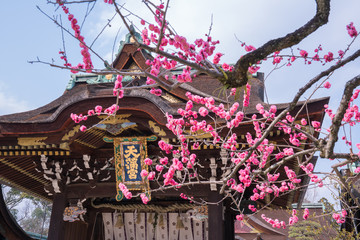 Today, I am going to introduce "Baika-Sai Plum festival".
The traditional event held at Kitano Tenmangu Shine , one of the famous plum blossoms spot in Kyoto.
Kitano Tenmangu Shrine boasts about 1500 kinds of red plums and white plums from early February to late March.
And the Baika-Sai plum festival, which is held on February 25, it is the anniversary of the birth of "Sugawara no Michizane" who was a scholar, poet, and politician of the Heian Period of Japan ,the god of learning.
On this day, "Hideyoshi Toyotomi" who was a samurai and politician and of the Sengoku period.He defined the area of "​​Kyoraku"area, for the border and flood control. He build "Odoi" (Japan historic site) built in the surrounding area of ​​Kyoto remains in the precinct."Baien" garden( plum blossom garden) was opened at the same time .
A festival will be held at the main shrine for about 50 minutes from 10 o'clock, and a tea ceremony will be held from 10 o'clock to 15 o'clock at Kitano Tenmangu Shine.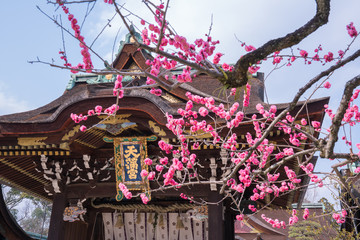 ☆Baien Garden opening time
fee : (with tea confectionery): 1000 yen for adults / 500 yen for children
90% off discount for 30 people or more (excluding Saturdays, Sundays, holidays, and 25th)
Handicapped 500 yen for adults and 250 yen for children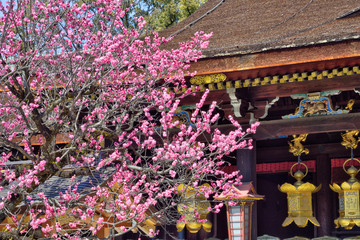 【Baika-Sai Festival】
【A speical offer and service for who are staying at M's Inn hotel ! 】
M's kyoto information center also have a sightseeing shuttle bus from here to Kitano-Tenmangu Shrine!
Please check your schedule from here.
https://kyohotel.jp/service/sightseeingbus
---
【Kitano-Tenmangu Shrine】
Address:Bakurocho, Kamigyo Ward, Kyoto, 602-8386
Google Map
Access:
JR Saga Arashiyama Line , Subway Nijo Station exit for bus No. 55
Bus:JR Kyoto Station Bus terminal Bus No. 50・101
---
~Kyoto's hotel is about M's inn!~
M's inn is the best choice to stay in Kyoto
Our hotels are located near station and we have many hotel in Kyoto.Also there are many guest limited services.
Why don't you stay M's inn ♪