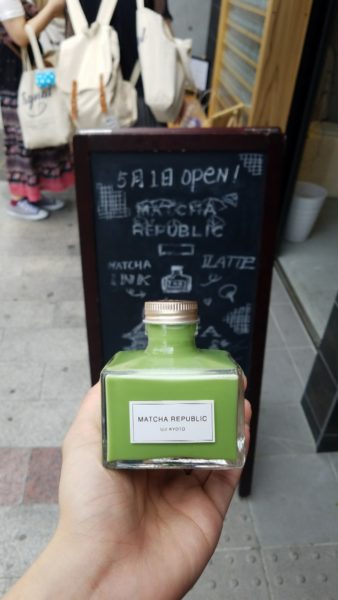 Matcha Republic
place: Nabeyachō, Higashikiyamachi Shijō noboru, Nakagyō-ku, Kyōtō-shi
from "Hankyu" Railway "Kawaramach" station take about 5 minutes on foot.
Today, I introduce "Matcha Republic" was opened a new cafe shop on "Kiyamachi Street" since first of May.
This shop so far has been opening in "Uji" city, has degree of drew media attention, famous and popular.
Honestly, it was amazing for me !! To know that opened a new shop in this area.
The other day's morning, I walked while talking with my friend to "Kawaramachi" Station.
Then, I found many people, but can't answer about "what kind of shops"? at first.
I watched a small sign was in front of this shop, I said "Wow this is the Matcha Republic" it's cool!!
Thinking of the shop is made a new generation in "Kiyamachi", I hope so.
The bag is also cute!
contain: straw, refrigerant, drink
It seemed a fragrance shop. (;'∀')
"Latte of Matcha" 560 yen
This drink which is in a glass bottle.
For likes "Matcha" maybe you will delight.
Let's checking yourself!!
~Kyoto's hotel is about M's inn!~
M's inn is the best choice to stay in Kyoto 
Our hotels  are  located near station and we have many hotel in Kyoto.Also there are many guest limited services.
Why don't you stay M's inn ♪