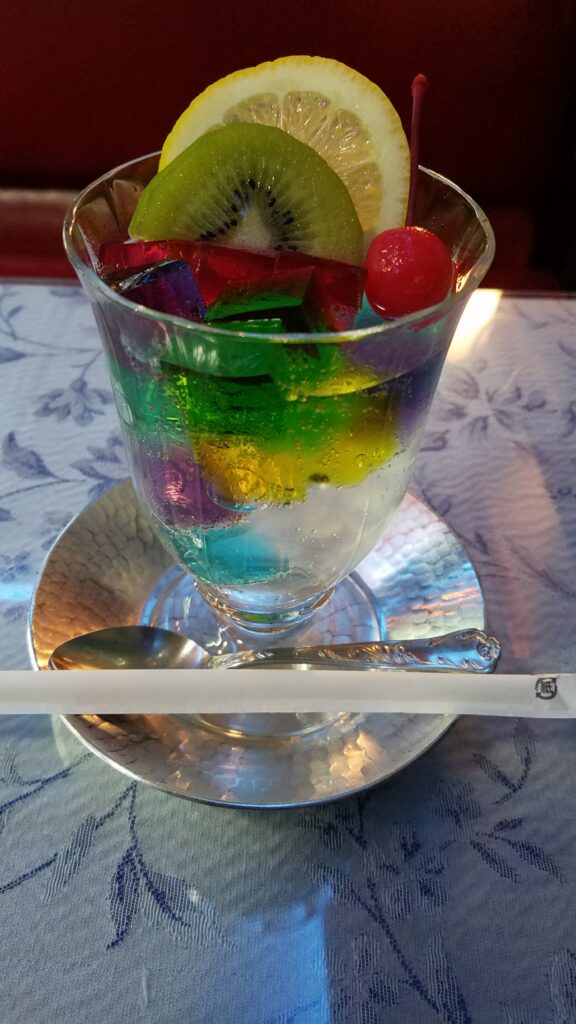 Today, I will introduce you to a cafe shop "soiree" located in "Nishikiyamachi" street, right next to WORLD KYOTO!
The most popular menu at this coffee shop is the jelly punch. Soiree's name and the famous jelly punch are quite popular among cafe fans.
I think that many locals as well as tourists are visiting. The store is always crowded, and depending on the day you have to line up before entering the store.
This is because, when you don't have time, you may have to give up.
However, I think it's worth going once.
Jelly, ice cream, cakes, yogurt, coffee, tea and cocktails you can enjoy that.
By the way, the photo jelly punch is ¥ 700. The taste is delicious and the photo is also good.
After all, (like jelly punch, jelly milk, jelly yogurt, jelly coffee)  Jelly menus are especially recommended.
↓↓ Click here for details ↓↓
95 Shinchō, Shijō-noboru, Nishikiyamachi, Shimogyō-ku, Kyoto  〒600-8001
open: 13: 00-19: 30 (LO 1st floor 18:00, 2nd floor 18:45)
Regular holiday: Closed on Mondays (Closed on the next day in case of a national holiday)
TEL : 075-221-0351
~Kyoto's hotel is about M's inn!~
M's inn is the best choice to stay in Kyoto 
Our hotels  are  located near station and we have many hotel in Kyoto.Also there are many guest limited services.
Why don't you stay M's inn ♪