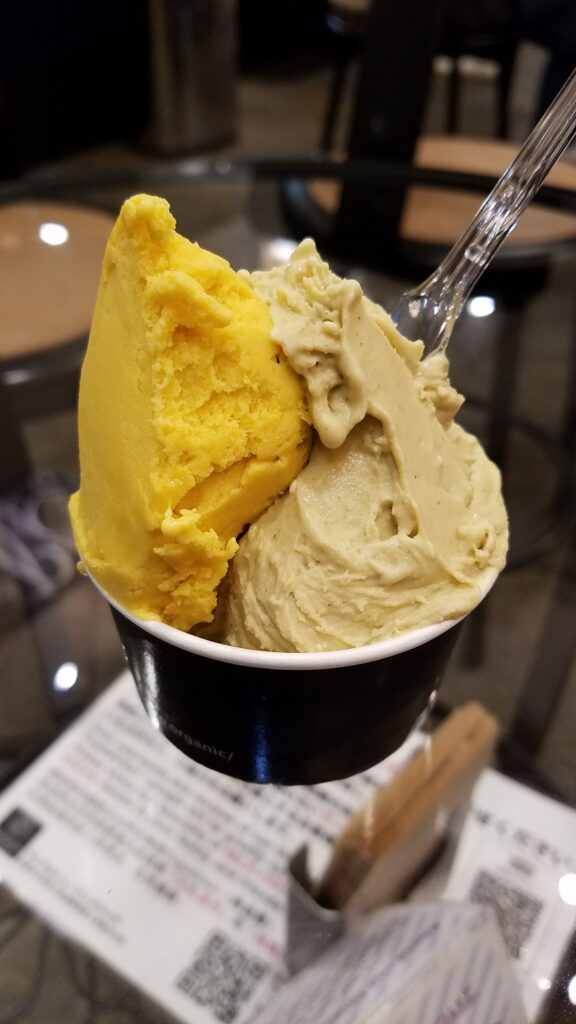 Today we will introduce you to Pre-Marche Gelateria.
This shop is originally a natural restaurant, but made use of its know-how and had a large selection of vegan and non-milk Italian gelato.
It is a famous store that has been ranked third in the world's gelato contests in the past, and is highly appreciated by foreign tourists.
↓ Please click here for detailed open days and times. ↓
308-1F Ontomocho, Nakagyo-ku, Kyoto-shi
〒604-8331
Phone: 075-600-2846
This photo are pistachio and pumpkin gelato only in autumn. Both are rich and very delicious. The aftertaste is refreshing and refreshing.
Furthermore, it can be said that it's the best because this gelato are good to the body! !
After purchasing a ticket at the ticketing machine and giving it to the clerk, You can select and order up to two flavors you like.
By the way, you can taste up to 3 flavors as a trial.
Please ask the clerk.
↓Click here for a detailed list of flavors. ↓ (There is a foreign language notation)
Free water (self) is also a good quality with detox action Why don't you drink that too.
It's a recommended gelateria! !
~Kyoto's hotel is about M's inn!~
M's inn is the best choice to stay in Kyoto 
Our hotels  are  located near station and we have many hotel in Kyoto.Also there are many guest limited services.
Why don't you stay M's inn ♪