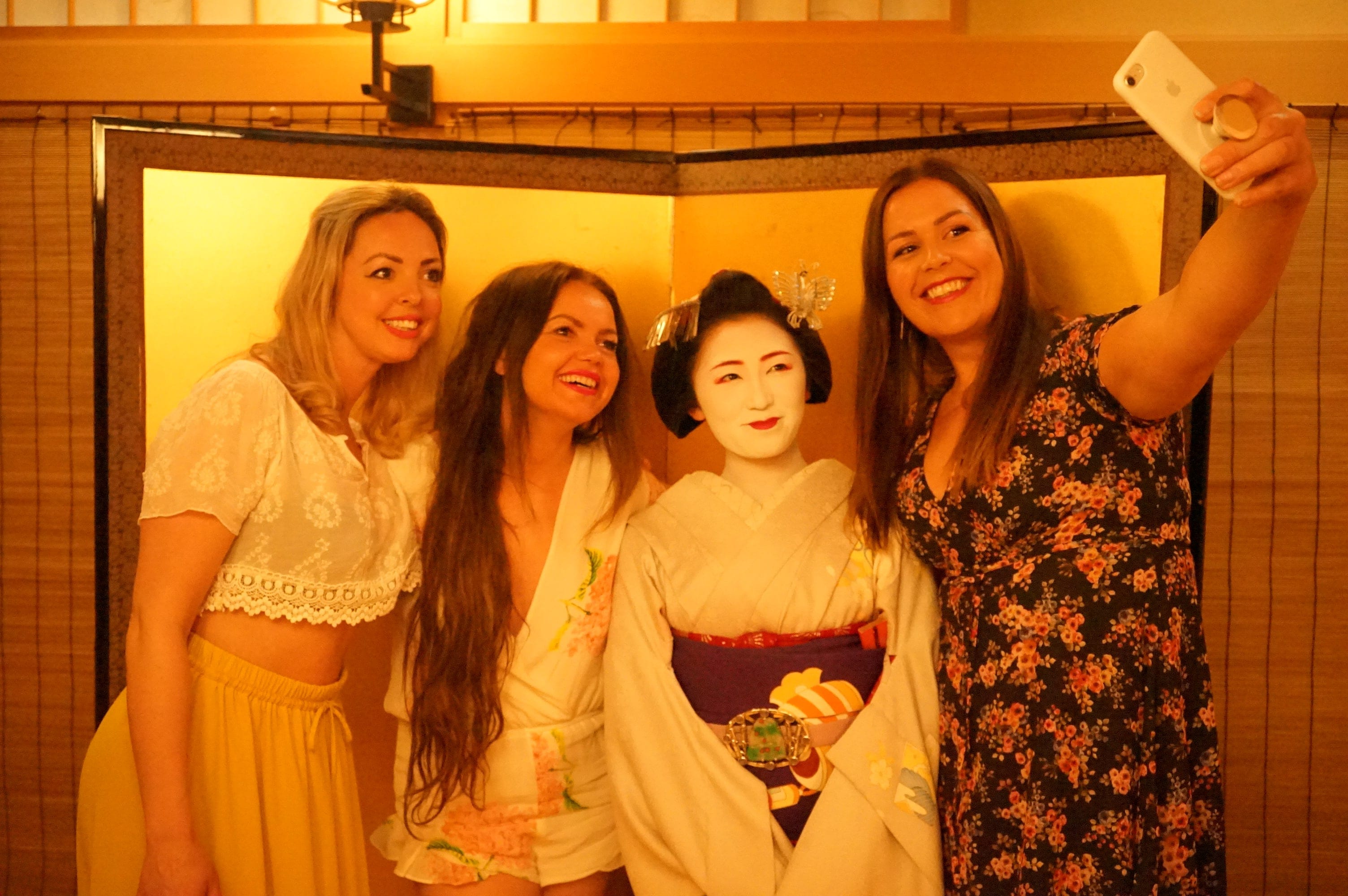 In response to the Japanese government's request for countermeasures against the coronavirus, and also to protect the health of our customers, we have decided to close our activity services.
Do You know Maiko?
Maiko is an apprentice of Geisya. Geisya is Japanese traditional female entertainer who performs Japanese classical  dance at Japanese style party.
Maiko trains roughly 5 years from teenager to become Geisya. They go to school for traditional performing arts (classical dance ,Japanese harp,tea ceremony)  on day time. On night time they perform what they practice in school at party and stage.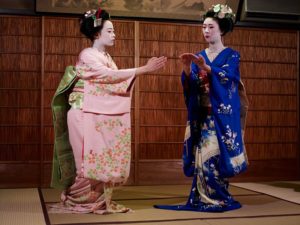 Maiko wear brightly colored and beautiful long sleeved Kimono. Also they put on tall shoes(Geta) and lovely and gorgeous hair ornament. They dress differently how Geisya dress.
There are Maiko all over japan but many Maiko lives Kyoto. In Kyoto there are 5 areas where Maiko is.
If you are lucky,you could find Maiko on street!
On this  tour you can eat Japanese food at Japanese traditional restaurant. While eating Japanese traditional food, you can interact with Miko. Location is in Gion that is popular sightseeing spot in Kyoto.The tour starts from 18:00 and it takes hours. English speaking staff will explain about Maiko and Maiko will perform classical dance in front of you. After that Maiko come to each table and you can talk with Maiko. Also you can take a picture with maiko. English speaking guide with you so you can ask question as you want.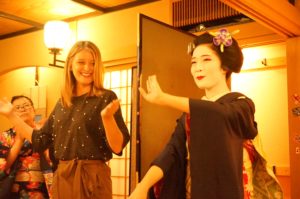 Finally, you can experience Geiko Asobi/Ozashi Asobi. It is traditional games with Maiko.
When our staff joined  this tour,everyone looks happy.
It is no doubt that you can spend wonderful  night ! Why don't you join our Maiko tour?
****** STAFF BLOG  http://kyohotel.jp/en/poj/3950     ******
---
在舞台或是宴會時跳舞或是展現日本古典藝能,是非常傳統的女性表演者「藝妓」的學徒。
舞技是為了成為藝妓必須從10歲開始花費5年的修行。
白天時需要去古典藝能(像要跳舞,彈琴以及茶道等等)的學校,晚上則是要在舞台或是宴會的地方表演。
舞技和藝妓是不一樣的,
需要穿著有高度的木屐,和服則是色彩繽紛的圖案振袖,長帶子,
以及穿著帶有可愛華麗的髮飾做裝飾。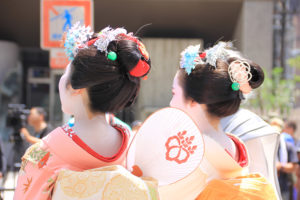 雖然日本國內有舞技,但是京都的舞技則是最多的,而且在京都市內有舞技的紅燈區就有五個。
如果幸運的話,在路上也有可能可以看到舞技喲!!
這個行程會先到日本傳統的餐廳一邊享用和食一邊也可以見到舞技,是一個非常棒的行程喔。
地點是在京都最有人氣的「祇園」,從傍晚6點為期2個小時的行程。
英語翻譯的工作人員會在一旁解說關於舞技的事情,而舞技則會到你面前跳舞。
在這之後,舞技會到各個桌位與大家有一段愉快的談話時間,並且也可以跟舞技拍照留存紀念喔。
因為有英語翻譯的工作人員在旁協助,所以有任何好奇的都可以聽到喲!!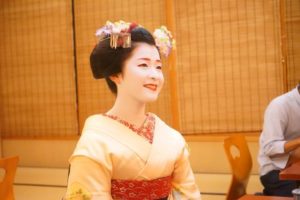 最後,你可以體驗與舞技或是藝妓特有的「與藝妓一起玩樂/在宴席一起玩樂」的活動。
我們全體員工希望去參與此活動的所有人都能有非常愉快的時光。
這絕對會是在日本京都美好的夜晚!所以請不要錯過一定要體驗看看!!
O

VERVIEW概要
Title
MAIKO(舞妓) dinner @KYOTO / GION
Event Date
Every Tuesday,Thursday,Saturday,Sunday.
Time
6:00 PM - 8:00 PM
Entry Fee
adult:¥19,600  youth:¥17,500円  child:¥13,400
Venue
Yasaka-Dori Enraku
Meeting Place
Yasaka-Dori Enraku
594 Komatsucho Yasakadori, Higashiyama-ku, Kyoto 605-0811, Kyoto Prefecture