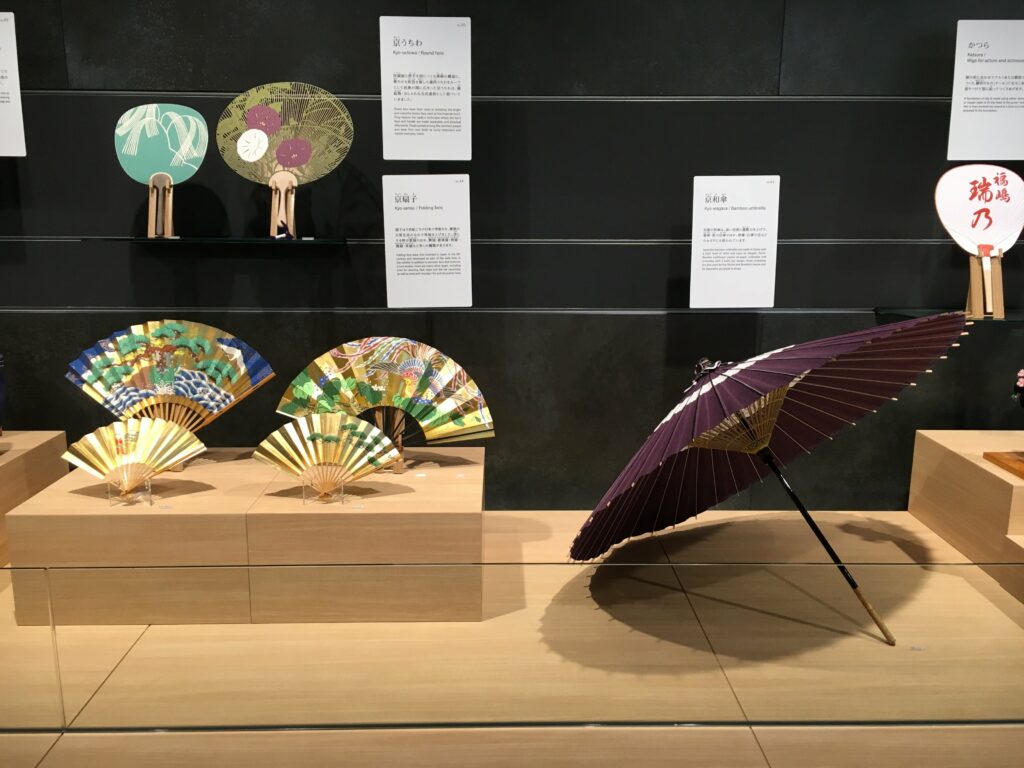 Hi!
Recently, I went to the Kyoto Museum of Crafts and Design which just reopened after the renovation.
Kyoto Museum of Crafts and Design is located on the basement first floor of the Kyoto Municipal Industrial Hall Miyako Messe in Okazaki, Higashiyama which is famous for the location of Heian Jingu Shrine.
Like the name of the museum, there are many exhibits of Kyoto's traditional culture and industry.
Therefore, not only foreign visitors but also Japanese or even more people who lives in Kyoto can learn about the new attractions of Kyoto other than tourism and food, I think!
The exhibition is divided into seven booths and I found a lot of impressive crafts in each booth so I'm going to introduce each of my favorite exhibits according to the floor map below.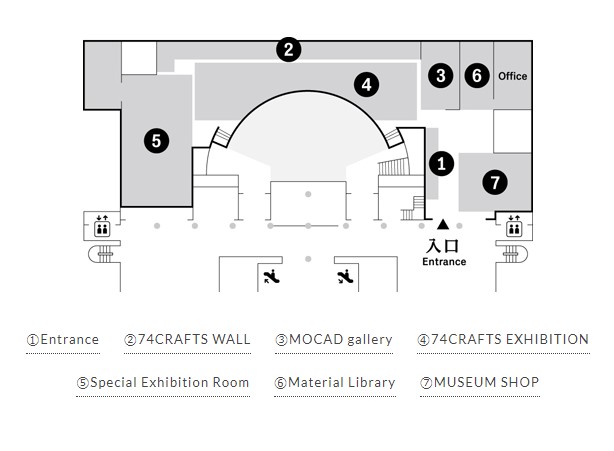 First, you can see the colorful Kyoto-like crafts at the entrance!
MUSEUM SHOP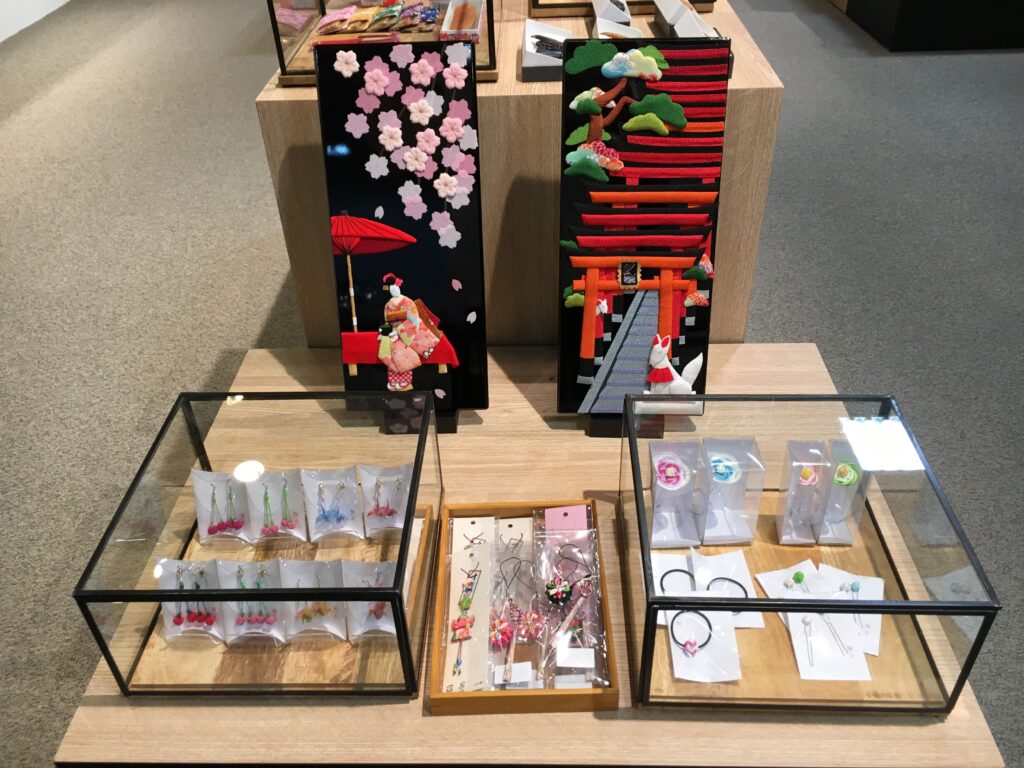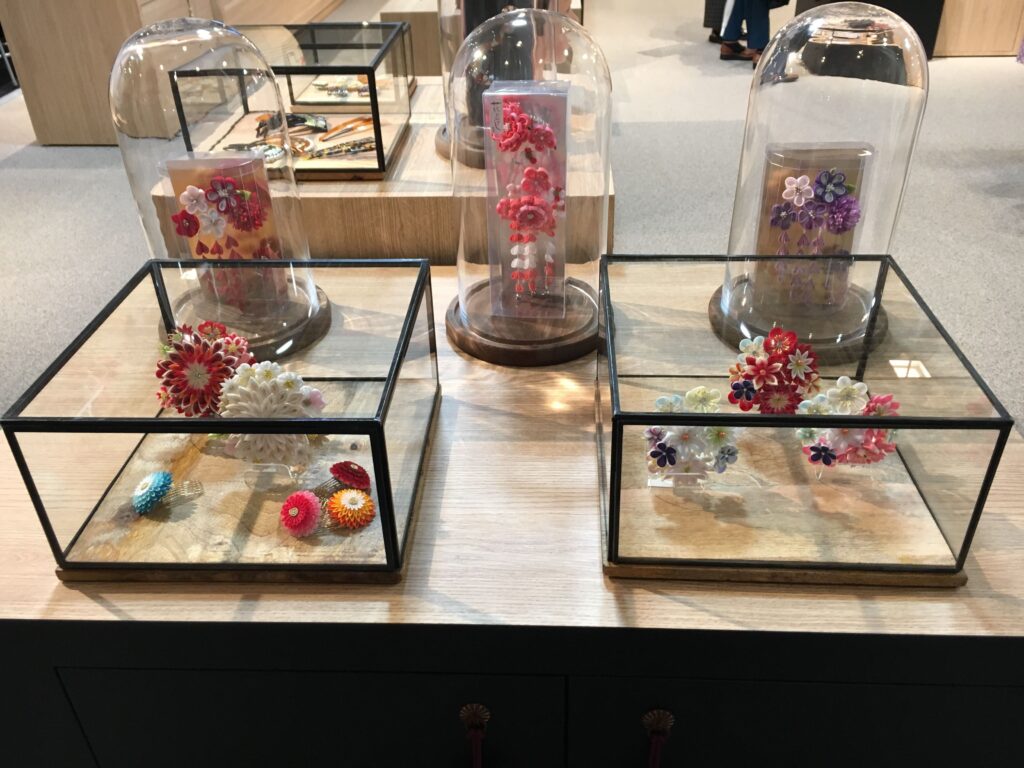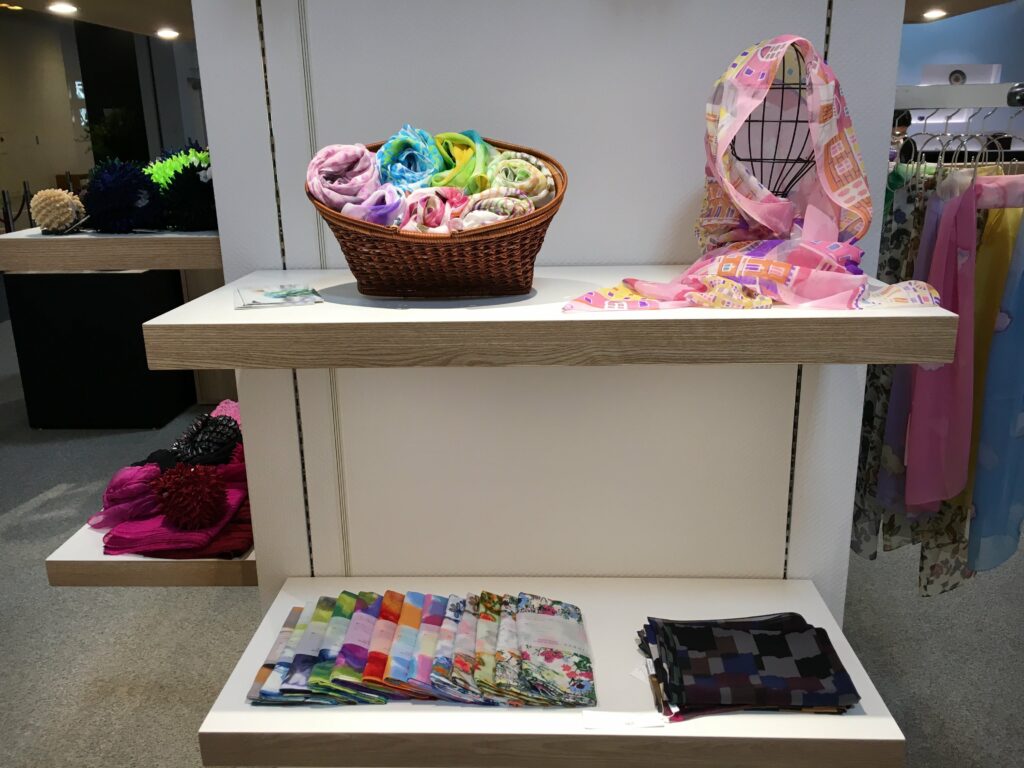 There were so many other things and all of them were beautiful like an art so it'll be wonderful to give somebody as a souvenir!
In the far side the museum, there were variety of traditional Kyoto crafts on the display so you can enjoy the exhibits like an art museum.
MOCAD gallery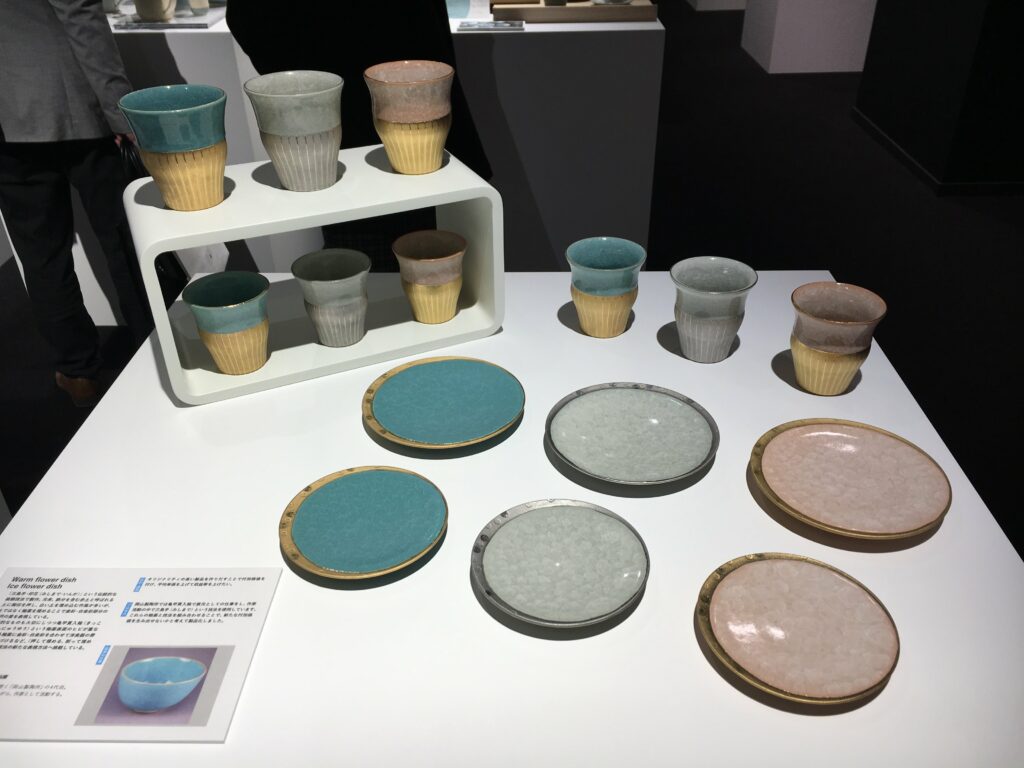 74CRAFTS EXHIBITION "permanent exhibition"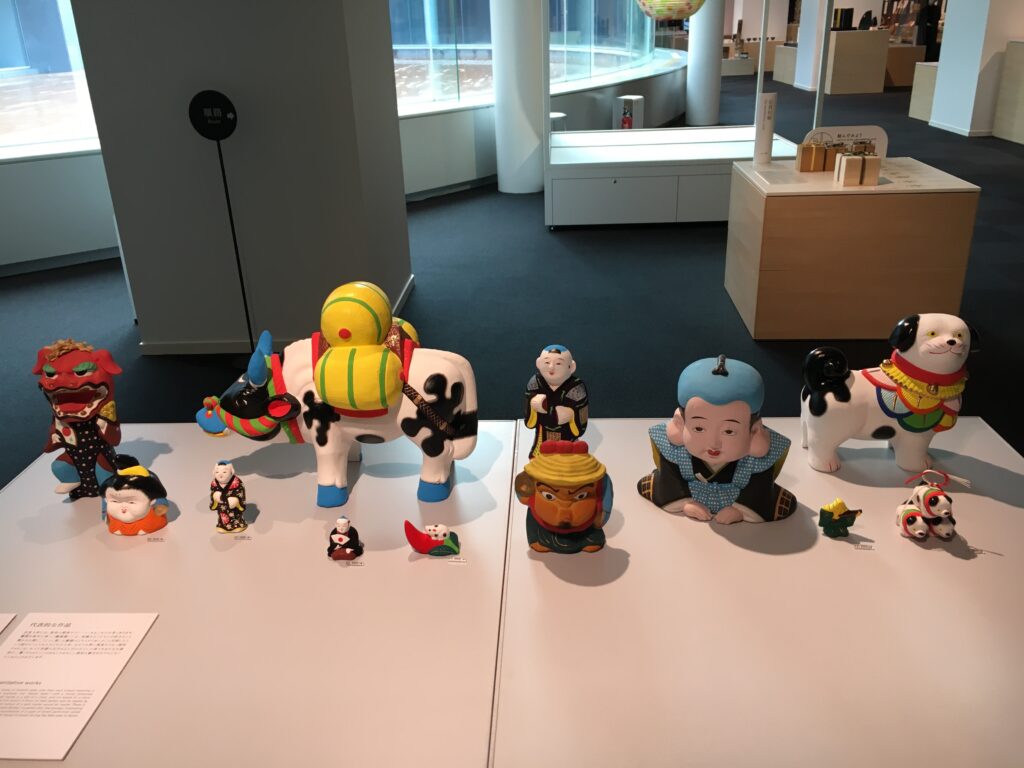 By the way, do you know what it is?
If you look closer…?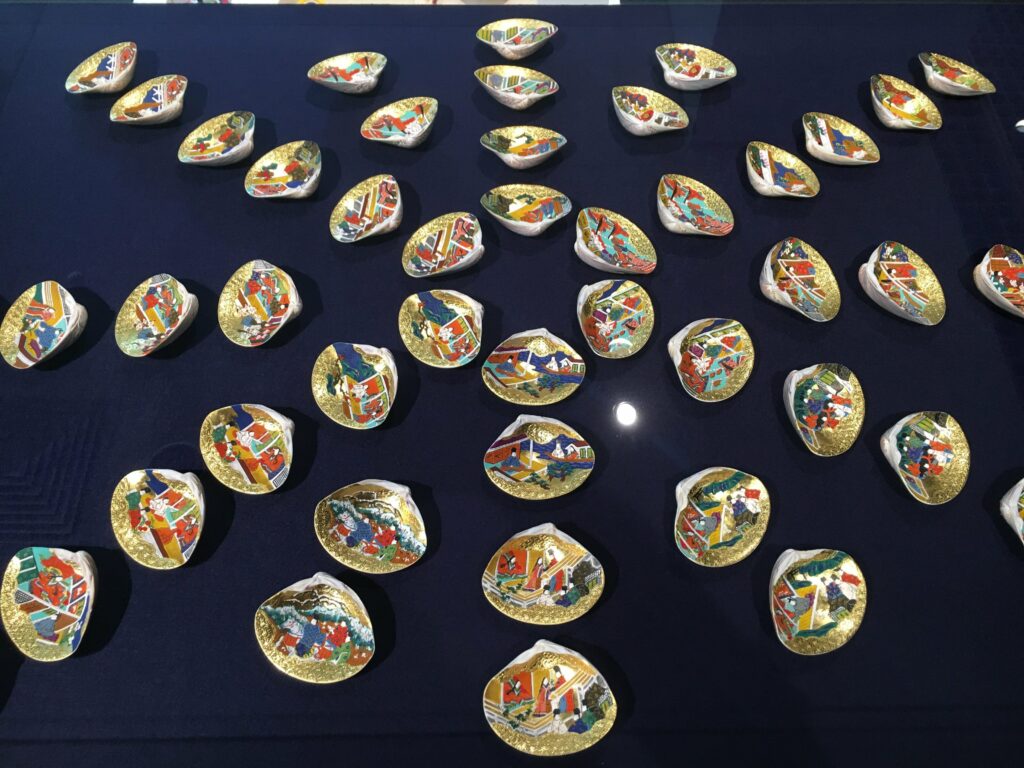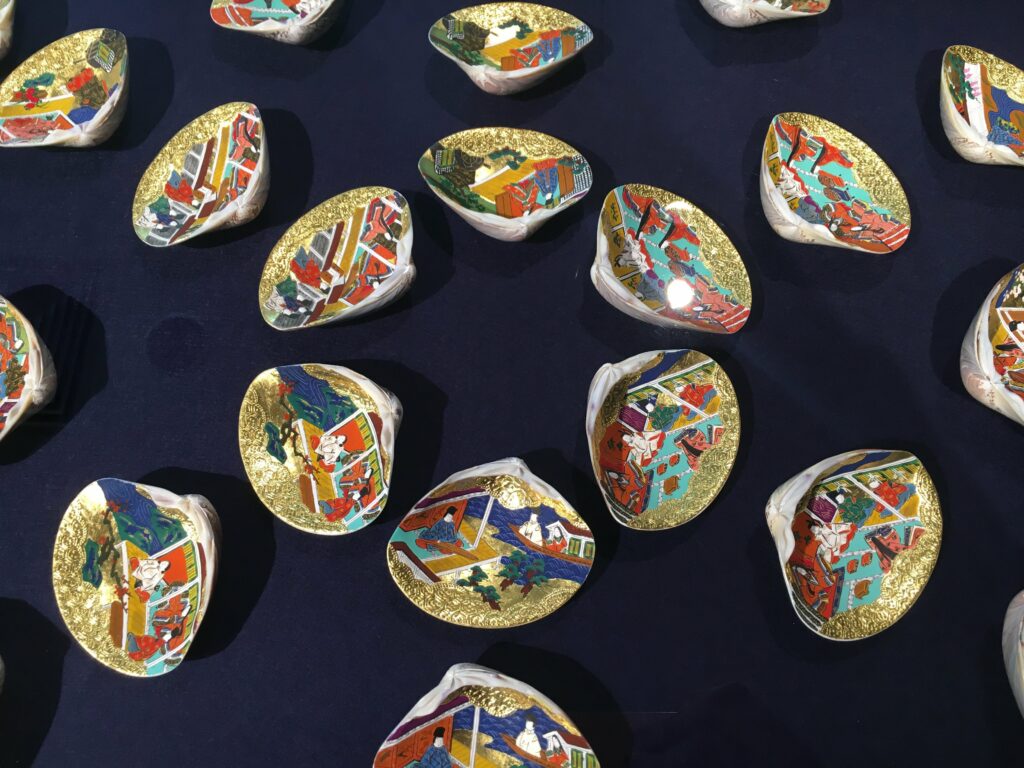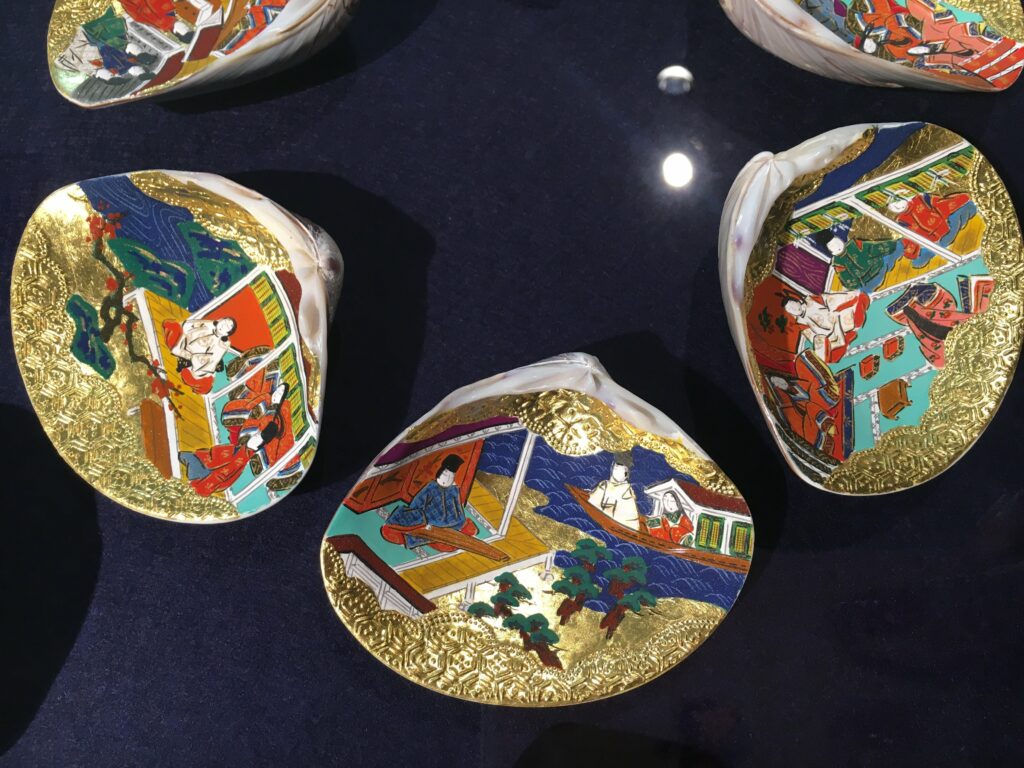 You can see the picture and it's drawn one by one! It's a very fine touch!
It's a called "Kaiawase" to match the art of the shell which used in Heian period mainly among aristocrats. Also it was the origin of the Traditional Japanese playing cards; "Karuta".
There were another different many beautiful Kyoto artifacts in the next booth.
74CRAFTS WALL "permanent exhibition"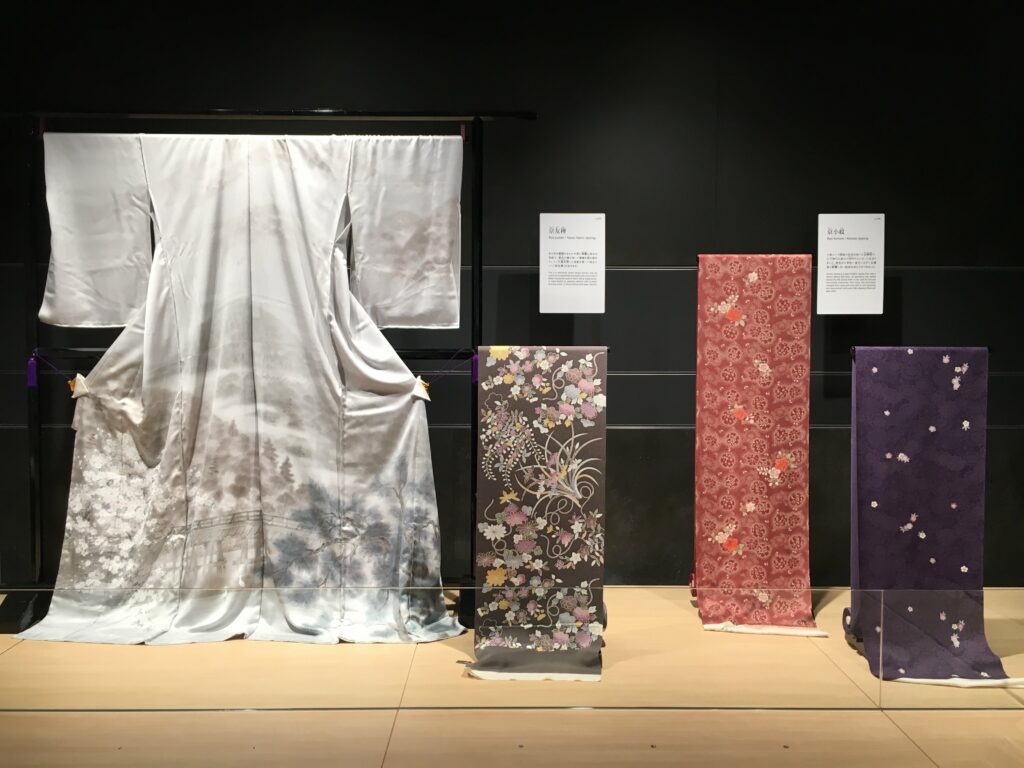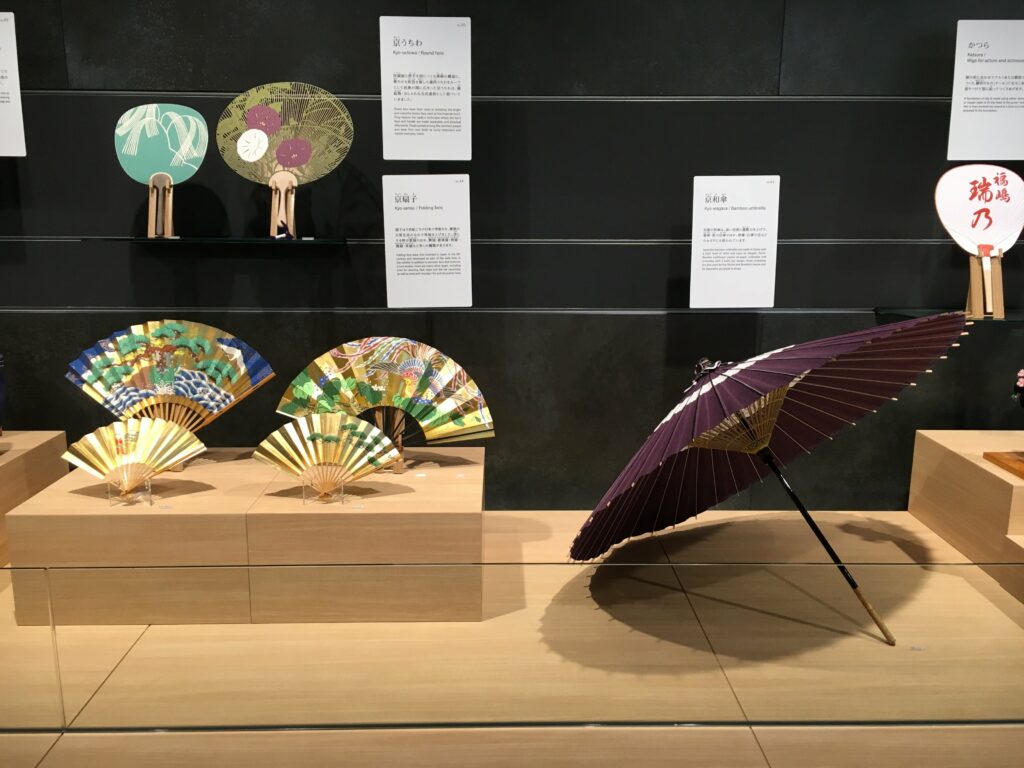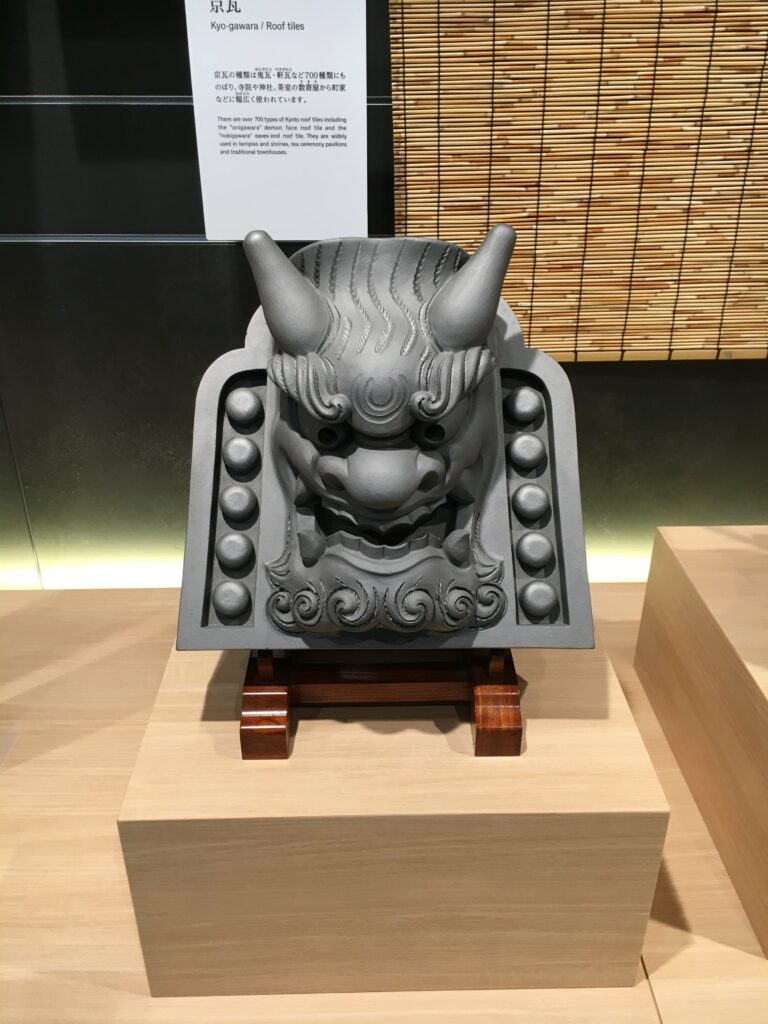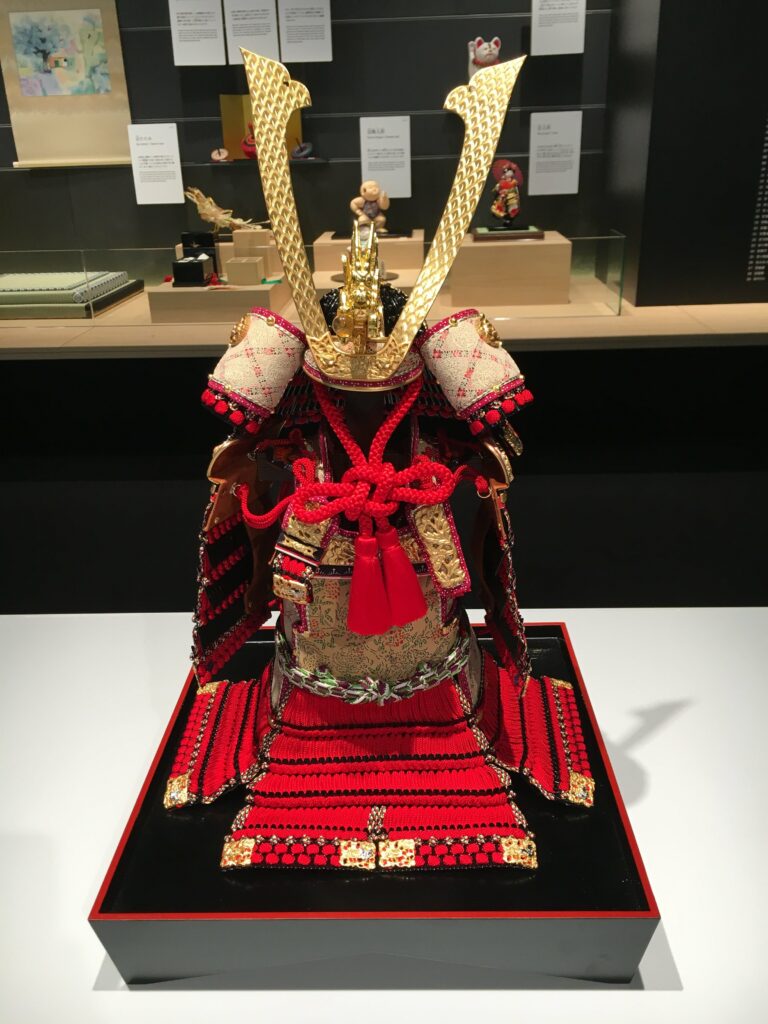 One of the most impressive crafts to me was this "Sweet of craft (Confectionery/Pièce montée)" which called "Kogei-gashi(工芸菓子)" in Japanese.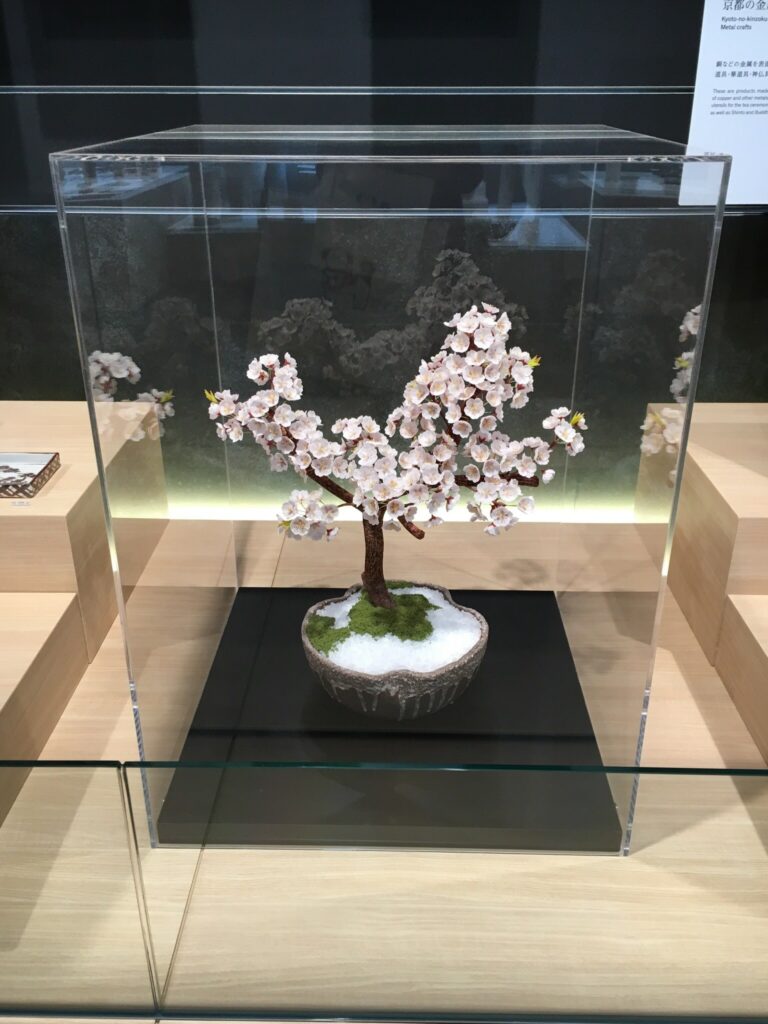 Actually, this cherry blossom tree was all made by sugar! (Isn't it Incredible?)
What a beautiful traditional Kyoto craft which is too good to eat!
And go farther, there was a booth for craftsmen who are actually making traditional Kyoto crafts!
Special Exhibition Room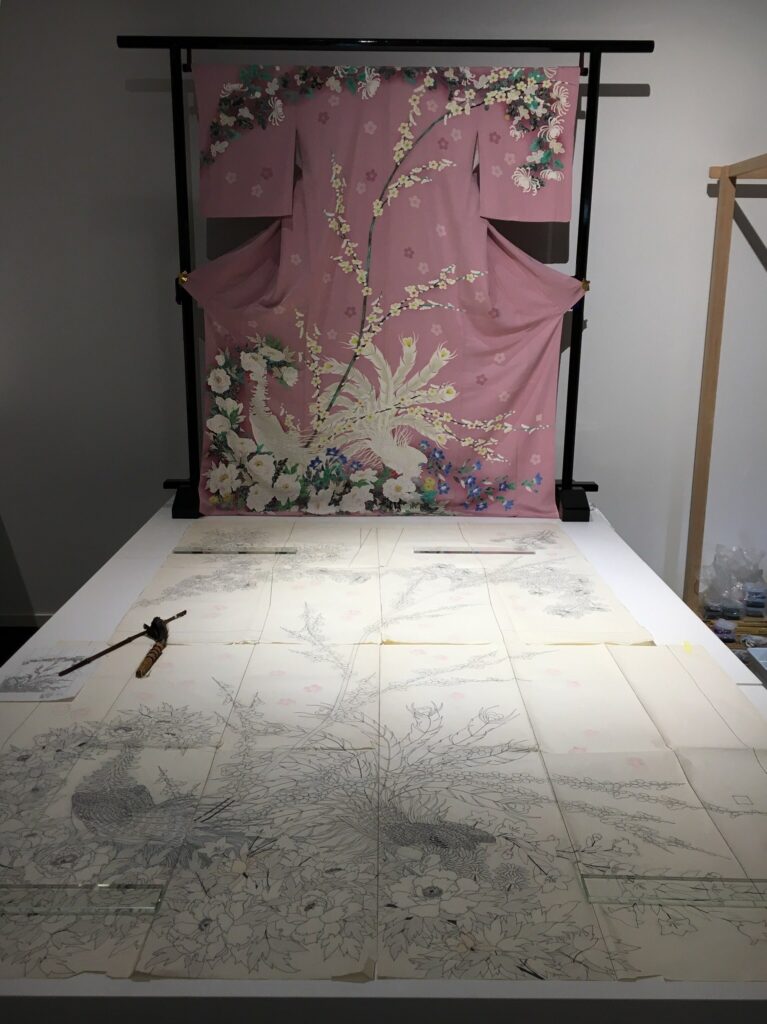 I didn't know that they designed the art/pattern of the Kimono in detail on the huge paper before weaving it!
It is amazing to see how craftsmen like a ceramics, Nishijin weaving, and folding fans are involved in craft production.
We don't usually see the craftsmanship that actually make so it'll be a very good experience for us!
Also, if you are lucky, you can also hear about the traditional crafts from craftsmen!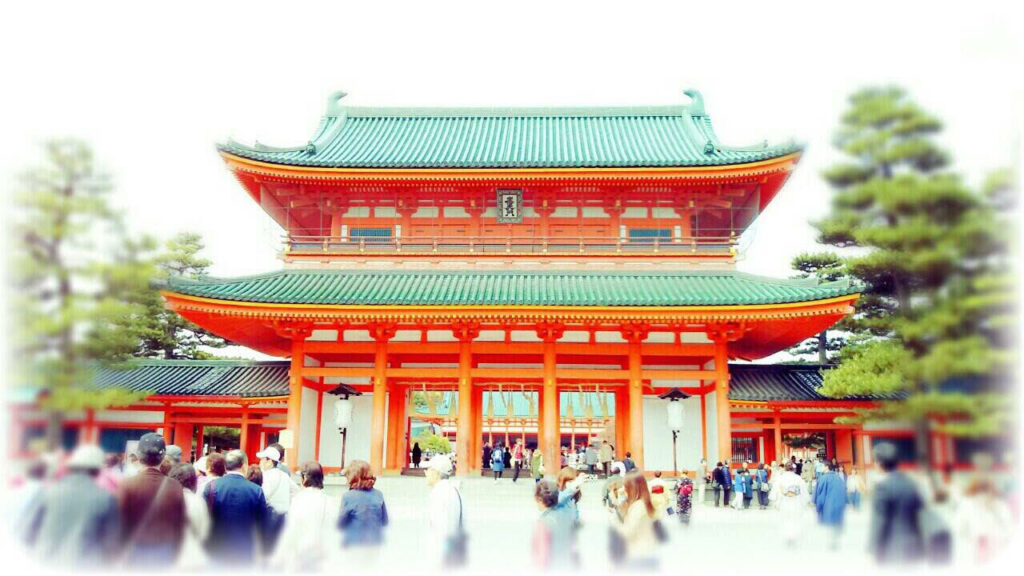 How was it?
At the Kyoto Museum of Crafts and Design, there are so many traditional Kyoto artifacts on display which not only see but also experience and purchase as souvenirs, so you can enjoy them in various ways.
When you visit Heian Jingu Shrine, please visit the Kyoto Museum of Crafts and Design!
---
~Kyoto's hotel is about M's inn!~
M's inn is the best choice to stay in Kyoto
Our hotels are located near station and we have many hotel in Kyoto.Also there are many guest limited services.
Why don't you stay M's inn ♪