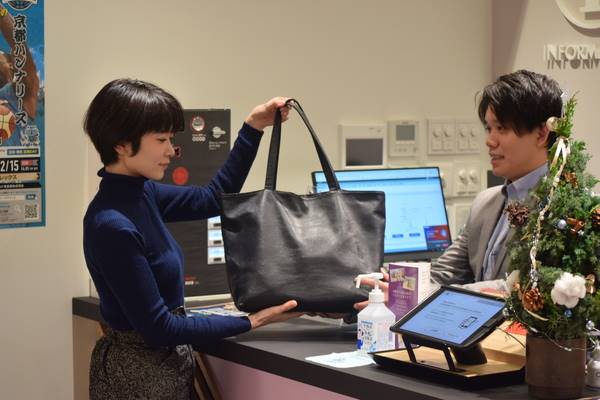 【Location】M's KYOTO INFORMATION CENTER
※At M's kyoto information center's counter on 1st floor luggage storage,On 2nd floor reception and cashier.
【Reception hours】Reception time 9:00~15:00
※Expected deliver time of arrival is around 18:00  ※Due to traffic condition, it may take time for deliver.
【Charge】One way 500 yen per Luggage/Round trip 1,000 yen
※Only Hotel to Office is not available ※Payment is CASH only.
【Target hotel list】
JAPANING HOTEL/ GION
GRAND JAPANING HOTEL/
KARASUMA-OIKE,NIJO,MELDIA NIJO-JO,KARASUMA GOJO, KYOTO STATION KOMEYA, GOJO NAGINATAGIRI
GRAND JAPANING / KYOTO GOJO VILLA
M's INN
GOJO ODAWARA,   KYOTO STATION TARUYA,   SANJO OMIYA,  KYOTO STATION KIZUYA, SANJO WAKOKU, KYOTO STATION KASUGA,
NIJOJO IWAGAMI, OMIYA KUROMON,  OMIYA MATSUURA , SHIJO OMIYA ,  OMIYA KARIGANE

---
★You can do a previous service application or on the same day as well.
★If you submit the application in advance the process is going to be faster.
※Note : For promotion is only valid for who completed Pre-registration in advance.
(For more information please check our website ※Except Gojo Villa guest)
★线上提前申请(到入住日前两日)和入住当日线下直接申请都可以。
★线上提前申请可以简化当日寄送手续,更方便!★
※适用【行李寄送单程1个免费活动】的情况下,请一定事先完成线上提前申请的手续。
(※五条VILLA的客户不用提前申请也适用于该活动)
---
【About luggage storage service】
Customers who used our hotels (which operated by our company) are able to leave luggages at M's KYOTO INFORMATION CENTER
in front of Kyoto station for free. Please feel free to use it.
Opening hours 9:00 AM – 9:00 PM
I

NFORMATION インフォメーション
| | |
| --- | --- |
| Address | 〒600-8216 Kyōto-fu, Kyōto-shi, Shimogyō-ku, Higashishiokōjichō, 545 M's KYOTO STATION MAE BLDG. 2F※Kyoto station subway "A-5" exit. |
| Time | M's KYOTO INFORMATION CENTER(M's/JAPANING HOTEL OFFICE)→ Your hotel9:00-15:00*Expected deliver time of arrival is around 18:00*Due to traffic condition, it may take time for deliver.Your hotel → M's KYOTO INFORMATION CENTER(M's HOTEL OFFICE)*Please put your luggage at the front of the hotel by 10 AM.*Pick up available between 3p.m~9:30p.m at M's KYOTO INFORMATION CENTER.<> |
| Fee | One way 500 yen per Luggage/Round trip 1,000 yen ※Only Hotel to Office is not available ※Payment is CASH only. |
| Notice | ※Unavailable Items※◆An Item over 2meters in length or over 30 kilograms.◆Total linear dimensions (length, width, height) of no more than 2 meters.◆Valuable, fragile, animal, dangerous goods, perishable items, drinks, all liquids in containers◆Cardboard box ◆Baby buggy, Wheel chair◆A luggage may cause some damage to other luggage, such as luggage with umbrellas on the side. If you leave an umbrella, it will be handled as two luggage◆Luggage which is difficult to deliver◆Plastic bags containing more than 2 bags【Others】※Please fasten your luggage※About Compensation for damagesIf we accept responsibility for damage to your items, We will make up for your damage up to 100,000 yen per one item |