We may be used to climbing up, but Japanese mostly go sideways.
Bouldering, while otherwise quite the same as rock climbing, doesn't go much beyond 3-4 meters high. Imagine looking at a portrait picture of an indoor climbing gym then rotating it to landscape. There you have it, that's bouldering!
Japanese adults don't have much opportunities or selection when it comes to recurring physical activities. Beside your average training gyms, which are actually not all that trendy in Japan compared to western countries, rock climbing gyms are one of the more popular. They can be found in urban areas and are often open until almost midnight.
Most will require you to become a member, which is usually an extra 50% fee on top of the normal usage cost, but it is lifetime without any subsequent fees. Footwear has to be climbing shoes, and no, exceptions aren't made so your running shoes will be denied; rental shoes are always available but some places have a constricting upper size limit since they aren't used to our big 11+ inches feet. There isn't much other requirements beside having to go through a 15-30 minutes tutorial with the staff.
The plans are often either a predefined #-of-hours or a full-day usage. Some even have Ladies' Days. After the tutorial you are given full freedom to try the courses, which are identified by colors of ranging difficulties. To be noted that a few hours can be more than enough and might leave your back and forearms sore for a few days. ~30$ should cover all you need for the experience.
*See below for a list of rock climbing location.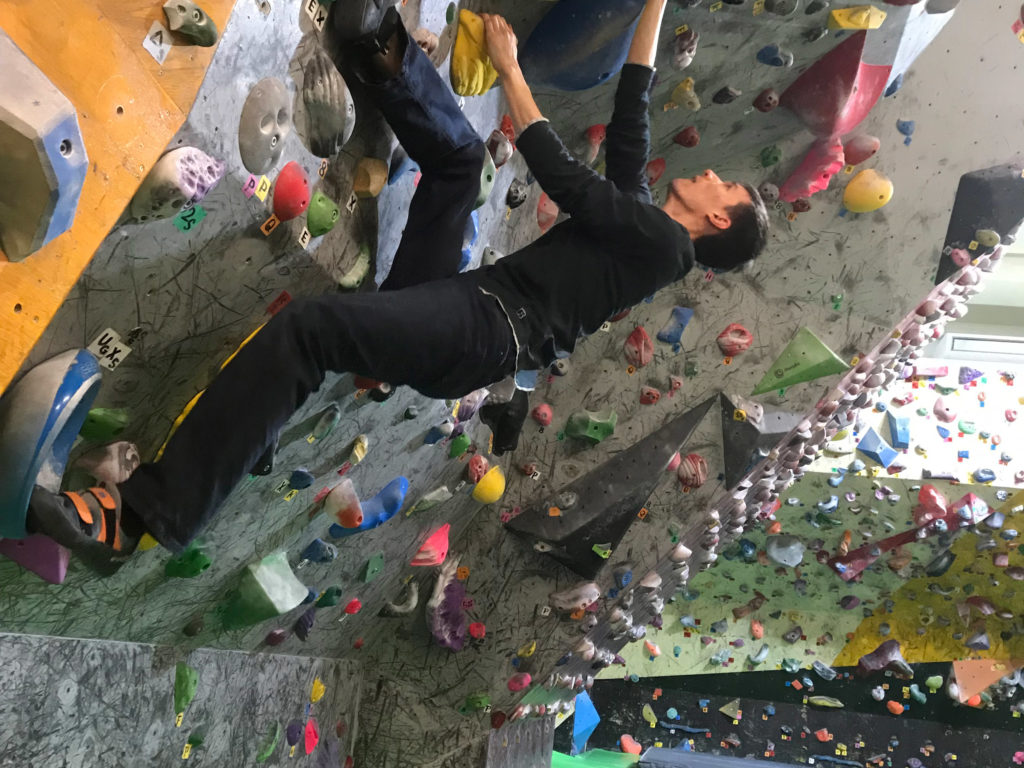 An easy course on a declined wall.
---
De haut en bas pour nous, de droite a gauche pour les Japonais.
Le bouldering est le cousin moins connu de l'escalade. C'est orienté plutôt de façon horizontale sans pousser beaucoup au-delà de 3 ou 4 mètres de hauteur. Simplement dit, vous n'avez qu'à regarder une photo d'escalade en mode portrait et la tourner en mode paysage pour transformer l'un en l'autre!
Les Japonais d'âge adulte n'ont pas beaucoup de choix ce qui concerne les possibilités sportives quotidiennes ou hebdomadaires. À part les gyms normales, ces derniers n'étant pas aussi populaires qu'à l'étranger, les endroits intérieurs de bouldering sont parmi les plus communs. On peut en trouver un peu partout du côté urbain.
La plupart vous forceront à devenir un membre même si vous ne voulez qu'essayer. C'est environs un +50% sur le prix mais c'est bon pour la vie sans devoir renouveler. Pour vos pieds vous aurez besoin de souliers fait pour ça donc vos espadrilles ne suffiront pas; vous pourrez louer des souliers sur place mais des fois ils sont limités a du 10 or 11 de grandeur de pieds. Il n'y a pas vraiment d'autres exigences à part d'un 15-30 minutes de leçon avec le staff.
Pour le prix, c'est habituellement divisé entre un plan de quelques heures ou de jour complet. Il y a même des Lady's Day dans certains endroits. À l'intérieur vous allez aussi voir des lettres sur des couleurs qui définissent en fait la difficulté des pistes à suivre: de débutant jusqu'à pro. Veuillez noter qu'après une heure ou deux il est possible que vous soyez déjà mort de fatigue et que vous deveniez raqué pour quelques jours dans les avant-bras et dos. L'expérience devrait être couverte pour environ 30€.
*Voir plus bas pour la liste des climbing gyms les plus proches de Kyôto Sta.
---
List of bouldering locations nearest to Kyoto Station:
Climbing gym CAIRN
Notes: Owner is the only staff.
Hours: 13:00 ~ 23:00
Location: 30 mins walk NNW of Kyoto Sta. (〒600-8351 京都市下京区富永町690 古川ビル2F)
Climbing gym ADSUMMUM
Notes: Highest shoe size was not very big.
Hours: 10:00 ~ 22:00
LocationA: 50 mins walk NNE of Kyoto Sta. (〒604-8047 京都市中京区新京極通蛸薬師上ル中筋町490京極72ビル3F)
LocationB: 50 mins walk WNW of Kyoto Sta. (〒600-8861 京都市下京区七条御所ノ内北町69インペリアル京都1階)
Climbing gym CRUX
Hours: 15:00 ~ 20:00
Location: 5 mins walk SW of Kyoto Sta. (〒601-8005 京都市南区東九条西岩本町10-2 B1)