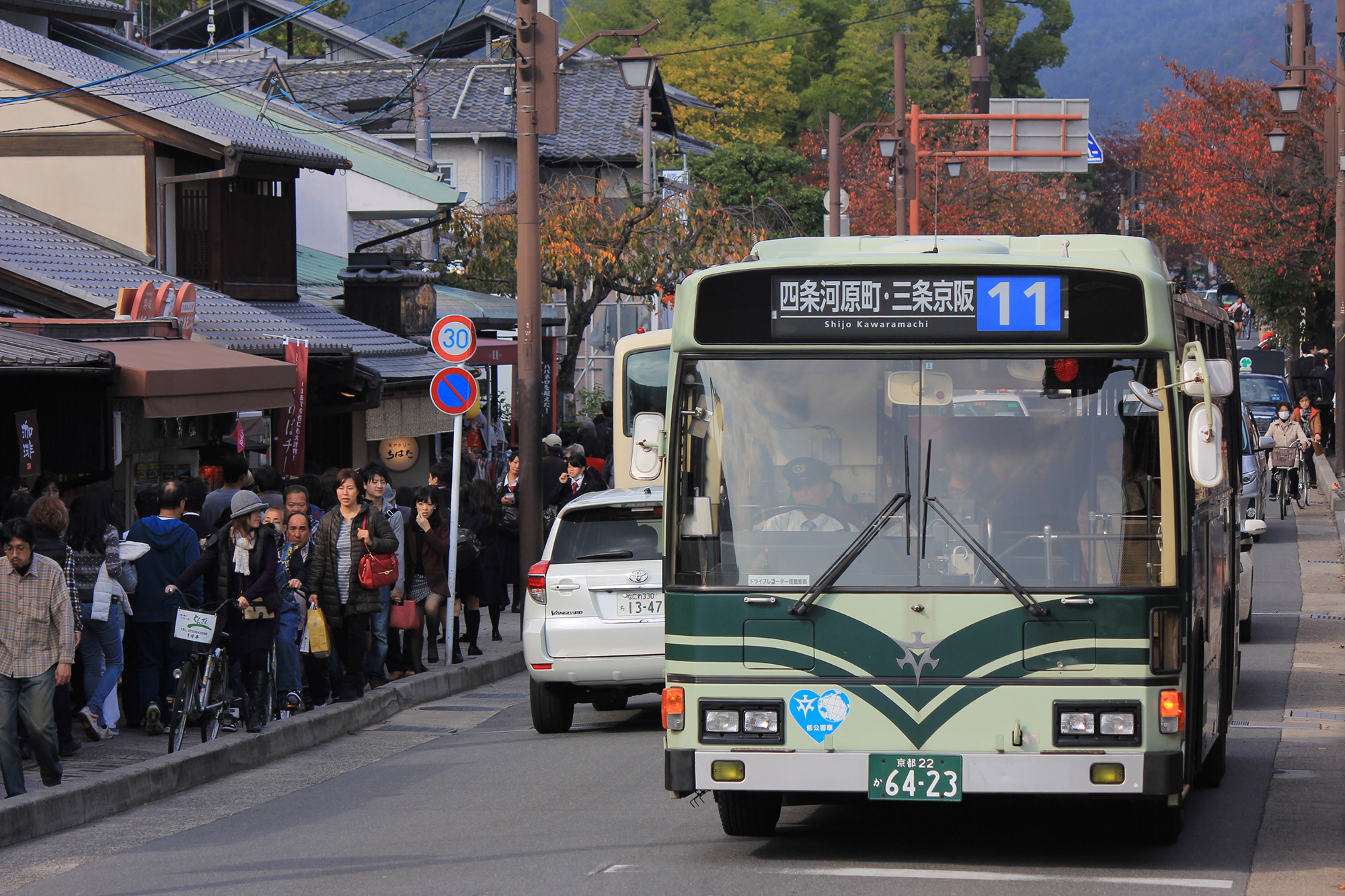 While transit in Kyoto isn't as daunting as Tokyo's or Osaka's, it can still be a lot to take in for someone not used to metropolises, let alone a foreign one in a foreign language. Nowadays most maps also display an Alphabet equivalent version to Japanese to make it easier for tourists.
The first thing of importance to understand is that all transportation companies are not only private instead of government owned, they also are separated as different "lines" which can make connecting a pain since they each have their own tickets and passes.
Second, Japan has adopted a pay by distance system instead of a fixed entry rate for most of their buses, trains, subways etc. Your tickets are checked both when entering and exiting the station gates. Luckily, the buses in Kyoto are at a flat rate of about 2$, with access to daily passes which are worth it if you are planning to use 3 or more of them in a single day.
Thirdly, you do not get any follow-up tickets for your next transit; 2 buses = 2 tickets; bus+train+bus = 3 tickets.
While all the above can be quite frustrating if you are used to a simpler system in your home country, there is good to it:
Short train trips are cheap at about just over 1$.
Public transit can take you anywhere, they cover the urban areas confusingly redundantly.
They are almost always perfectly on time.
Trains are often available up to around midnight.
As a general rule, children only pay half.
Now going into more details specific to Kyoto.
You can estimate a 100¥ coin to be like 1$ for simplicity.
CHILDRENS fares (applies to transportation and many other things)
0-5 Free
6-11 Half-price
12+ Adult price
KYOTO CITY BUS
The buses that cover the urban area of Kyoto, which includes most temples and touristy places.
~5h30-22h30
230 ¥ flat rate per bus (120 for kids)
500 ¥ 1day bus pass
600 ¥ 1day bus/subway pass
900 ¥ 1day combo bus+trains pass
1700¥ 2day combo bus+trains pass
Note1: The passes have to be purchased at specified locations like vending machines or from staff at Kyoto Station.
Note2: Day passes are not 24h, they are for the current day only. (which could include 1am trains for example)
Note3: There are more pass types that, additionally to transit, cover different sightseeing locations. You can get more details at the ticket shop of Kyoto Sta.
Note4: Watch out for clockwise/counter-clockwise versions of the buses identified with the same number. You can tell by the color next to and the destination text on all sides of the bus.
Note5: If you don't have a ticket/pass, when exiting a bus, you need to pay cash. You can use the change machine by the driver if need be.
TRAIN, SUBWAY, ETC
The plethora of train lines can bring you anywhere you need if you don't mind jumping from one train to the other. They can take you all the way to Tokyo and even further if need be.
Normal tickets are bought from the many machines usually within short-walk distance from the gates. Look at the map above to check the price based on where you are going and buy a ticket matching that price.
~5h30-24h00
¥120+ depending on the train and the distance you will travel.
Note1: Be careful when riding your train since some are "rapid" versions which will skip some stations. Refer to the map on the boarding platform.
Note2: Don't throw away your ticket after entering, you'll need it to exit.
SHINKANSEN / BULLET TRAIN
Are for long-distance travel and much more expensive.
If you want to know about manners, here are a few useful ones:
– Drinking/Eating in the train is acceptable but in a modest way.
– Talking to a person is fine but loud phone calls are not.
– Use headphones for devices if you want sound, speaker is not ok.
– Speaking to the driver while in motion is not ok.
Note that Japanese people are unlikely to voice their complains to you due to a culture where they tend to try to avoid any and all conflicts with strangers.
Typically, strangers do not talk to each other as it is considered rude for them to do so. That said, do not feel bad as a foreigner to ask for guidance. Although most will be more than happy to assist and talk with you, some may completely ignore you or give you their common "excuse-me" hand gesture, don't let it bother you as the majority of them enjoy the experience of talking to foreigners and have a chance at practicing some English.