Kyoto being renowned for its safeguarding of old traditions has a class of female performers called geiko or geisha. Geishas are the pinnacle of Japanese traditional female-performers and are unique to the country. They specialized in entertaining guests via traditional dances but also singing, playing games, instruments, and conversating with customers. Contrary to the myth, geishas are not prostitutes (at least not in the sexual way), they are bound to their highly-trained female entertainer roles in a purely artistical sense. That said, they are very expensive and rented in a similar way as prostitutes.
In Kyoto, commonly enough you may spot a few while on a stroll through the city. They are easy to recognize as their attire is luxurious kimonos of extravagant colors and designs. They also have pure white makeup on their faces and on most of their exposed areas near the head, like neck and upper back. Beyond that, they also have a special over-the-ear rolled hairstyle unique to their trade.
Being a geisha is a lifelong commitment, those women are often recruited from a young age, going through the many trainings and ranks of seniority like minarai and maiko until their early twenties, where they graduate to become a full-fledged geisha (called geiko in Kyoto and western Japan). Their training becomes a debt that they have to pay and they do not have their freedom until it is repaid fully. Their life becomes dedicated to that profession, so much so that they cannot live normal lives, they are their profession.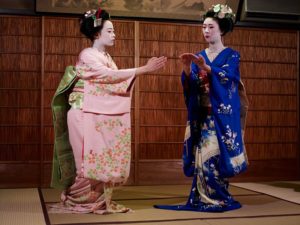 Two maikos mid-performance.
Kyôto est reconnue pour sa continuation de vieilles traditions. L'une d'elles, est la présence de femelles artistes appelé geisha (Tōkyō) ou geiko (Kyôto). Le rang de geisha est le haut titre de ce type d'artiste et prend au minimum 1 an d'entrainement. Contrairement au mythe, elles ne sont pas des prostitués, la différence étant qu'au lieu d'offrir des services sexuels, elles sont entraînées dans les manières et différentes habilitées comme les danses traditionnelles, chansons, jeux, instruments de musique et la conversation.
À Kyôto, il est assez fréquent d'en voir dehors dans les rues, spécialement lors de festivals ou d'événements. Elles sont très faciles à reconnaître grâce à leurs habits kimono extravagant. Leur visage et ses environs sont recouverts de make-up blanc pur et elles ont aussi une coiffure unique de cheveux roulée au-dessus de leur tête et oreilles.
Être une geisha est un engagement à vie, ces demoiselles sont souvent recrutées à partir d'un très jeune âge. Elles doivent passer plusieurs niveaux d'entrainement, tel que minarai et maiko jusqu'à ce qu'elles deviennent adultes (20 ans au Japon), pour finalement graduer en geisha. Similairement mais plus durement que nos dettes d'études, les geishas doivent repayer la leur avant de gagner leur liberté. De plus, être geisha n'est pas comme tout autre travail à temps plein (laisser tomber le temps partiel), leur travail devient leur vie, elles sont leur profession.