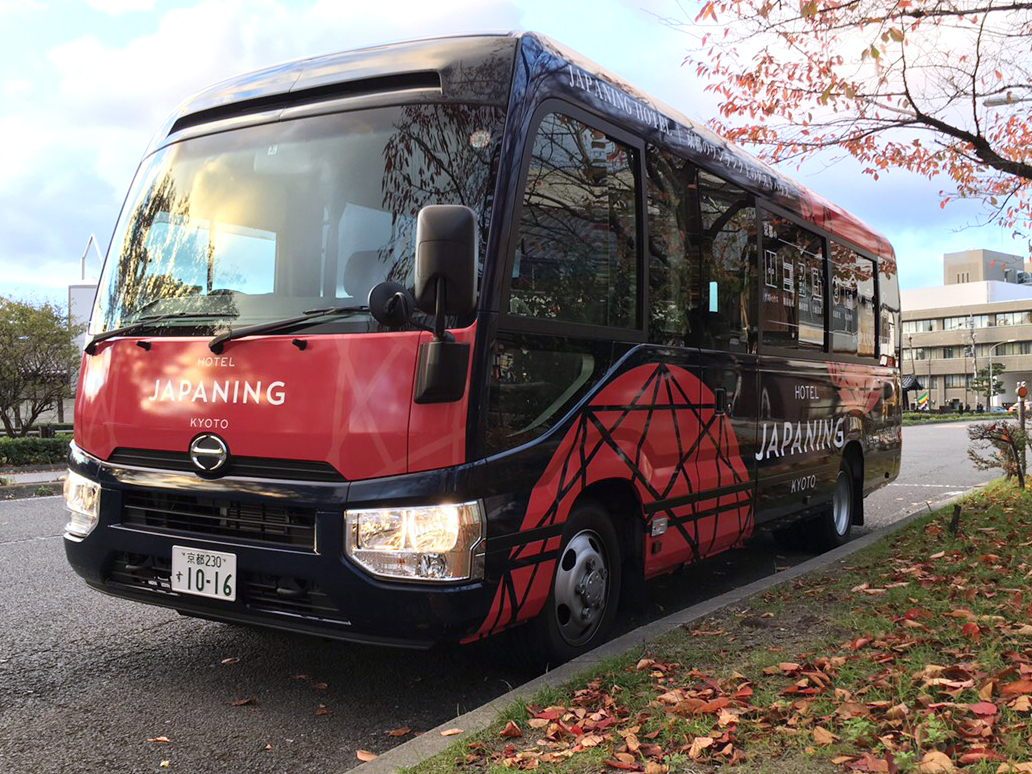 We are currently running a shuttle bus with 3 routes that goes to popular tourist destinations.
Guests staying at our hotels can ride it for free!
Let`s visit Kyoto comfortably and happily.
-Three routes are available.
-We operate even on Saturdays and Mondays every month so please make sure you check the departure schedule.
-When you make your reservation, select the departure place and the destination.
-Make sure you arrive at our Departure place at least 5 minutes before departure time. Our staff will tell you where is the departure place.
我們有運行到京都人氣觀光地的免費觀光巴士!(三條路綫)
在我們酒店入住的客人可以免費乘坐觀光巴士,請好好享受京都,好好觀光!
* 有三條路綫
*每周周六,周日一定會運行。請在預約日程中確認運行日期
*預約時,請選擇您的出發地與目的地
*最遲在出發前五分鈡到達出發地點,現場會有工作人員進行指引

【List of eligible hotels】
JAPANING HOTEL/
BRILLER KYOTO, HAKKOEN, GION, NISHIJIN, KUJO, Kyoto Machiya Ryokan Cinq, ROKUHARA, SENKYU, GOZEN,  NISHIOJI, OXA, TAMBABASHI
GRAND JAPANING HOTEL/
NIJO, KARASUMA OIKE,  MELDIA NIJOJO, KARASUMA GOJO, KYOTO STATION KOMEYA, GOJO NAGIANTAGIRI
GRAND JAPANING KYOTO GOJO VIILA
HOTEL ,M's EST KYOTO STATION SOUTH (Former THE GARNET HOTEL KYOTO STATION)
M's INN
KYOTO STATION TARUYA, GOJO ODAWARA,
NIJOJO IWAGAMI(Former GRAND JAPANING HOTEL NIJOJO IWAGAMI),
OMIYA KUROMON(Former GRAND JAPANING HOTEL OMIYA KUROMON),
OMIYA MATSUURA (Former GRAND JAPANING HOTEL OMIYA),
SHIJO OMIYA (Former GRAND JAPANING HOTEL KYOTO SHIJO OMIYA),
OMIYA KARIGANE (Former GRAND JAPANING HOTEL OMIYA KARIGANE),
SANJO OMIYA, KYOTO STATION KIZUYA
HOTEL GRAN Ms KYOTO, HOTEL M's PLUS SHIJO-OMIYA, HOTEL M's EST SHIJO-KARASUMA, M's INN HIGASHIYAMA
【Notes · Remarks】
※Please make your reservation until 02 days  before your departure day. If you wish to make a last minute reservation, please call us or come directly to M's KYOTO INFORMATION CENTER.
※The bus will depart on time. Late boarding is not accepted so please be forewarned.
※Because of weather and traffic jams, there are possibilities of delay. Thank you for your understanding.
【注意事項/規則】
*網絡預約必須在利用日兩日前進行
即時預約請打電話或者直接到M's KYOTO INFORMATION CENTER來進行預約
*巴士會準時出發, 遲到可能會無法坐車,請您事先諒解
*因交通狀況和天氣狀況,巴士也可能會遲到,請您事先諒解
INFORMATION

インフォメーション
| | |
| --- | --- |
| Time | Please check the schedule chart. / 請在這裏確認巴士的班表 |
| Contact Address | 【TEL】075-746-7663 |