Greetings from M's KYOTO INFORMATION CENTER!!
Today I am going to introduce"August Kabuki Program at the Minamiza Theater.
Minamiza theater is a symbol of Gion, Kyoto which Registered Tangible Cultural Properties in 1996. After then it was designated as Kyoto City`s Historical design architecture. Minamiza theater is the oldest historical theater in Japan and Kabuki is originally from Kyoto. so you definitely will enjoy this show which you've never seen!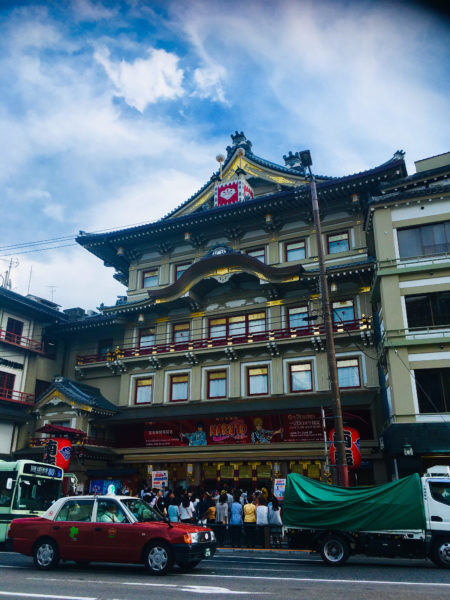 Kabuki actor, Shido Nakamura and Virtual singer, `Hatsune Miku held a collaboration show "August Kabuki Program at the Minamiza Theater "in 2019. It`s a innovative Kabuki show mixed traditional kabuki and latest technology "Vocaloid"Show.
This challenge is started since 2016 at "Nikoniko Meetings` it`s called "Cho-Kabuki"(means beyond traditional Kabuki) Cho-Kabuki has been performing many different stages such as "Hanakurabe Senbon Sakura" etc… from the first show.
The best part of this `Cho Kabuki Show performance is that you can join the kabuki show by using Penlight (Psyllium) and ""Ohmukou"(Call out) for actor in order to make actors to cheer up or ice break atmosphere.Kabuki- familiared people are good at warming up the atmosphere and it leads the stage a successful one. Generally it's little hard to call out for beginner, however this "Cho kabuki" is very easy to join.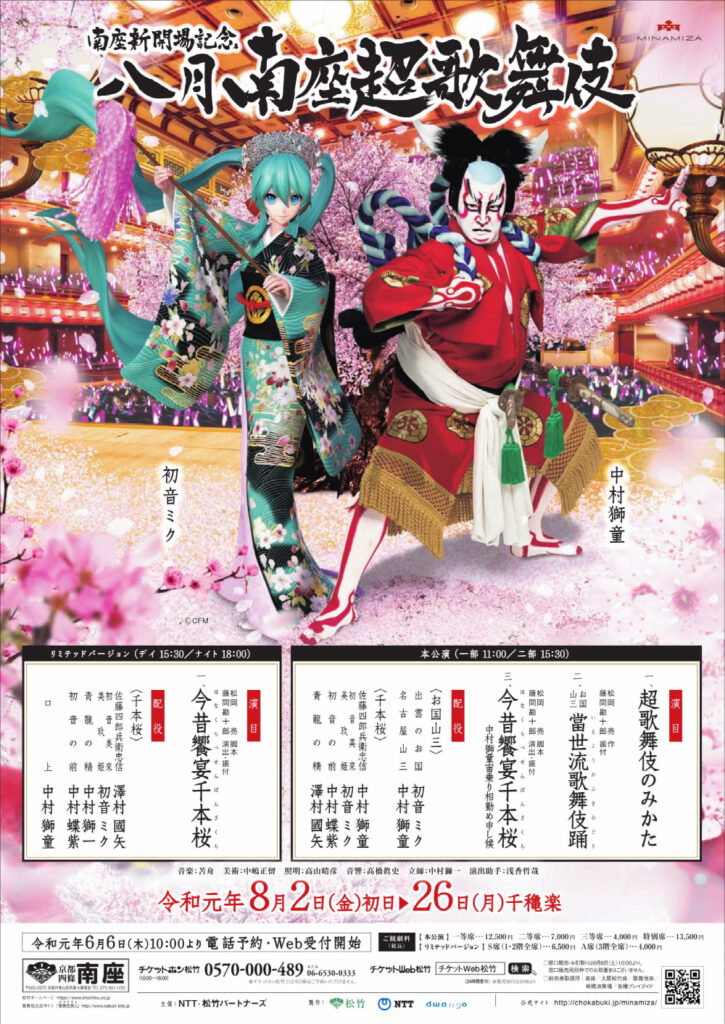 You will be hard to choose to see Main performance or Limited performance. The Main Performance is from 11:00 or 15:30,Limited version performance is from 15:30 or 18:00.
Minamiza theater is just hear of down town"Karasuma&Kawaramachi Kyoto,it`s near popular sightseeing spot such as Gion. It`s easy to access from those location.
Please check details from Minamiza Website
Cho Kaburi is held on first time at Minamiza theater between 2 Aug to 26 Aug.
Please check it out!!
☆★M's KYOTO INFORMATION CENTER        At Minamiza Theater in Auguest!!Gift Fan and Leaflet!!First some,First served bases!!★☆