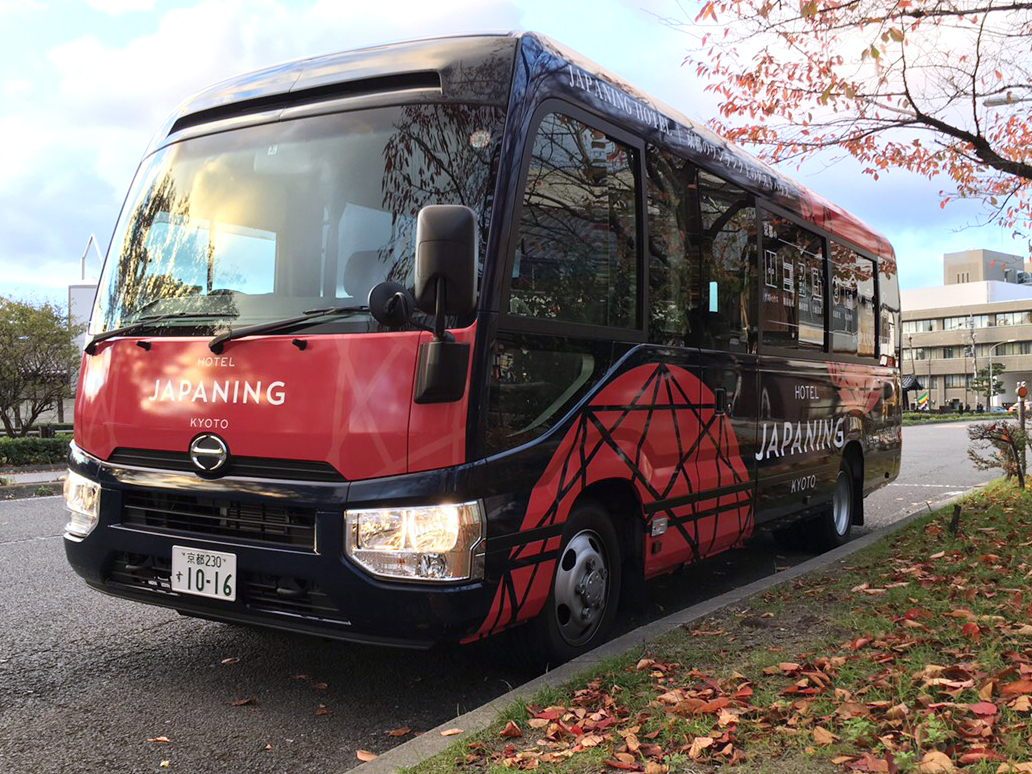 We are currently running a shuttle bus with 3 routes that goes to popular tourist destinations.
Guests staying at our hotels can ride it for free!
Let`s visit Kyoto comfortably and happily.
-Three routes are available.
-We operate even on Saturdays and Mondays every month so please make sure you check the departure schedule.
-When you make your reservation, select the departure place and the destination.
-Make sure you arrive at our front desk at least 5 minutes before departure time. Our staff will tell you where is the departure place.


【List of eligible hotels】
JAPANING HOTEL/
BRILLER KYOTO, HAKKOEN, GION, NISHIJIN, KUJO, Kyoto Machiya Ryokan Cinq, ROKUHARA, SENKYU, MARUTAMACHI, GOZEN, NISHIOJI, HIGASHI KUJO
GRAND JAPANING HOTEL/
NIJO, KARASUMA OIKE, KUROMON SANJO, TAMBAGUCHI SOUTH, KYOTO SHIJO OMIYA, TAMBAGUCHI EAST, MELDIA NIJOJO, KARASUMA GOJO,OMIYA KARIGANE, NIJOJO IWAGAMI, GOJO NAGINATAGIRI, KYOTO STATION KOMEYA
GRAND JAPANING/
KYOTO GOJO VILLA
THE GARNET HOTEL KYOTO STATION,
HOTEL GRAN Ms KYOTO, HOTEL M's PLUS SHIJO-OMIYA, HOTEL M's EST SHIJO-KARASUMA, M's INN HIGASHIYAMA
【Notes · Remarks】
※Please make your reservation until 17:00pm on the day before your departure day. If you wish to make a last minute reservation, please call us or come directly to JAPANING KYOTO INFORMATION CENTER.
※The bus will depart on time. Late boarding is not accepted so please be forewarned.
※Because of weather and traffic jams, there are possibilities of delay. Thank you for your understanding.
INFORMATION
Title
Shuttle bus to sightseeing spot(Free)
Event Date
Be aware that we do not have shuttle bus service on the Saturday, Monday during this date: 2018/12/30 ~ 2019/01/03
Time
Please check the schedule chart.
Entry Fee
free
Participants Number
1~
Venue
【THE GARNET
HOTEL Kyoto station 】or【JAPANING KYOTO INFORMATION CENTER】or【GRAND JAPANING HOTEL KYOTO SHIJO OMIYA】
Meeting Place
【THE GARNET
HOTEL Kyoto station 】or【JAPANING KYOTO INFORMATION CENTER】or【GRAND JAPANING HOTEL KYOTO SHIJO OMIYA】
Contact Address
【TEL】075-746-7663